Principals |  Parents |  Students |  Calendar  |  Maps/Updates  |  Contact Us  | Q & A  |   Resident Assistants  |  HOME
Delaware Governor's School for Excellence
July 9-14, 2017
R.A. (RESIDENT ASSISTANT) JOB DESCRIPTION
Background -- Governor's School is a week-long residential program for "rising" juniors in high school. It is sponsored by the Office of the Governor and coordinated by the University of Delaware's Division of Professional and Continuing Studies. There are four programs:
Academic program, about 80 students
Visual Arts (painting), 10 students
Theatre, 10 students
Music, about 30 students
Students and RAs live at the University of Delaware's George Read Hall, eat at Pencader Dining Hall, and attend programs during the day at Clayton Hall and on campus (Amy du Pont, Hartshorn Hall, Recitation Hall).
RA Responsibilities -- RAs chaperone and live with a "quad" of students (10-12 students per RA). RAs escort students to programs, activities, and field trips. They participate in and lead evening activities. RAs are on call 24 hours a day during the Governor's School week, with some time off during the program. Governor's School RAs need to be energetic, flexible and responsible. RAs are expected to follow all Governor's School rules to model behavior for the students.
To Apply -- If you are interested in applying to be a Resident Assistant at Governor's School, please write to the Governor's School Coordinator via the Governor's School contact form to request an application.
Principals |  Parents |  Students |  Calendar  |  Maps/Updates  |  Contact Us  | Q & A  |   Resident Assistants  |  HOME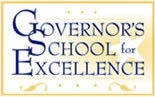 Governor's School for Exellence | University of Delaware | Newark, DE 19716 • USA
© 2017 University of Delaware • Comments • Legal Notices • Accessibility Notice