Principals |  Parents |  Students |  Calendar  |  Maps/Updates  |  Contact Us  | Q & A  |   Resident Assistants  |  HOME
Delaware Governor's School for Excellence
July 9-14, 2017
QUESTIONS & ANSWERS
Please write to Governor's School using the Contact Form and we'll be happy to answer your questions or provide you with additional information about Governor's School.
Q. Who is eligible to apply for Governor's School?
A.Students who are residents of the state of Delaware in their sophomore year and attend a high school in the state of Delaware are eligible to apply.  
Q. Can a student be nominated for more than one category?
A. No, a student from a public school can only be nominated for one category. Please keep in mind that the student nominated by his/her school for the academic portion of the program is automatically accepted (within that school's designated number of participant slots). 
Q. Are there other opportunities for high school students at the University of Delaware?
Principals |  Parents |  Students |  Calendar  |  Maps/Updates  |  Contact Us  | Q & A  |   Resident Assistants  |  HOME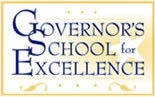 Governor's School for Exellence | University of Delaware | Newark, DE 19716 • USA
© 2017 University of Delaware • Comments • Legal Notices • Accessibility Notice