Principals |  Parents |  Students |  Calendar  |  Maps/Updates  |  Contact Us  | Q & A  |   Resident Assistants  |  HOME
Delaware Governor's School for Excellence
July 9-14, 2017
INFORMATION FOR HIGH SCHOOL PRINCIPALS
Principals, counselors, and teachers have the important role of nominating students from their schools to participate in Governor's School for Excellence. Schools are asked to nominate the most qualified students, keeping these things in mind
Please announce the program to all eligible tenth grade students.

Nomination does not necessarily result in selection. Students nominated for Visual and Performing Arts must audition. Academic students from private and parochial schools applications are reviewed by the Private School Selection Committee.

Updated selection criteria—The scoring guidelines of the PSAT have changed with the redesigned test. Working with ETS, we have established a new recommended minimum combined score of 1100. This score represents students at or above the 75th percentile.

Please follow the procedures contained in the Principal's Instruction Packet, see below.

Please pay close attention to submission deadlines.
2017 RESOURCES
Principals |  Parents |  Students |  Calendar  |  Maps/Updates  |  Contact Us  | Q & A  |   Resident Assistants  |  HOME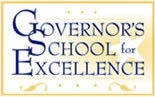 Governor's School for Exellence | University of Delaware | Newark, DE 19716 • USA
© 2017 University of Delaware • Comments • Legal Notices • Accessibility Notice