Principals |  Parents |  Students |  Calendar  |  Maps/Updates  |  Contact Us  | Q & A  |   Resident Assistants  |  HOME
Delaware Governor's School for Excellence
July 9-14, 2017
INFORMATION FOR PARENTS
Students are chosen for one of two Governor's School programs: academic, or visual and performing arts.
Academic students spend the first days of Governor's School focusing on the humanities, with students selecting workshops such as: Censorship in Rock Lyrics; First Amendment Rights, and The Movie Made Me Do It.

Most of the academic and performing arts programs participate in a field trip to a local venue or one of the colleges within the University of Delaware for an in-depth view of topics relating to their studies.

Students will spend the week in University of Delaware dormitories for a college residence-life experience.
Principals |  Parents |  Students |  Calendar  |  Maps/Updates  |  Contact Us  | Q & A  |   Resident Assistants  |  HOME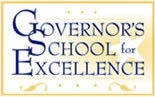 Governor's School for Exellence | University of Delaware | Newark, DE 19716 • USA
© 2017 University of Delaware • Comments • Legal Notices • Accessibility Notice