David W. Carey joined Oracle Corp. on Sept. 4, 2001, as Vice President, Information Assurance, after serving for 32 years at the Central Intelligence Agency. At the CIA, he retired as Executive Director, often referred to as the Chief Operating Officer, or No. 3 person, in the agency.
During his 32-year career at the CIA, Mr. Carey served as Executive Director (July 1997 to April 2001), responsible for everything from strategic planning to daily operations. Before assuming that post, Mr. Carey was Director and one of the founders of the DCI Crime and Narcotics Center, the Director of the Office of Near Eastern and South Asian Analysis and Deputy Director of the Office of Global Issues.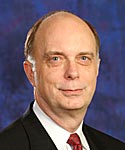 While working at the agency, Mr. Carey earned the CIA Director's medal, the DIA Director's medal, CIA's Distinguished Career Intelligence Medal and twice was awarded CIA's Distinguished Intelligence Medal. In addition, he received recognition awards from the Federal Bureau of Investigation, Drug Enforcement Administration, Department of State, U.S. Customs Service and Office of the National Drug Enforcement Program, among others.
At Oracle, Mr. Carey built and directs the Oracle Information Assurance Center, located in Oracle's Reston, Va., facility. The center provides a venue to demonstrate Oracle's security-related technology and for Oracle customers and partners to address a wide array of information assurance and security challenges, including business continuity. Center personnel work with partners in federal, state and local government, the private sector and academia to enhance the understanding and application of information assurance technology. The center also provides the focus of Oracle's involvement with the critical infrastructure protection community.
Mr. Carey, who is married and has one child, has a bachelor's in agricultural economics from Cornell University and a master's in business administration from the University of Delaware.