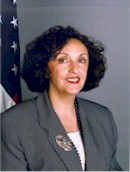 Ambassador Marcelle Wahba
U.S. Ambassador to the United Arab Emirates
Ambassador Marcelle M. Wahba joined the Foreign Service in 1986. She arrived in the UAE on October 4, 2001.
Ambassador Wahba was the Deputy Policy Officer in the Near East Office of the United States Information Agency from 1987 to 1988. She was then assigned to Cairo, Egypt, to serve as the Press Attaché and Embassy Spokesperson from 1988 to 1991. In 1991 she transferred to the U.S. Embassy in Nicosia, Cyprus, to serve as the Public Affairs Officer. She served as the Counsellor for Press and Cultural Affairs in Amman, Jordan from 1995 to 1999 and in Cairo, from July 8, 1999 to July 2001.
During her Foreign Service career Ms. Wahba has received the following awards: Meritorious Honor Awards in 1991 and 1999; Sustained Superior Awards in 1991 and 1994; and Senior Performance Pay Award in 1998 and 2001.
Ambassador Wahba graduated from Western College for Women in Oxford, Ohio, with a Bachelor of Arts degree in Political Science and a minor in International Relations. Before joining the Foreign Service, Ambassador Wahba worked at the American University in Cairo as the Grants and Projects Officer and before that at the Department of Human Resources in Seattle, Washington.
Ambassador Wahba is married to Derek M. Farwagi, a marketing and human resource development consultant. They have one daughter, Morwenna O. Farwagi, who lives in Australia.