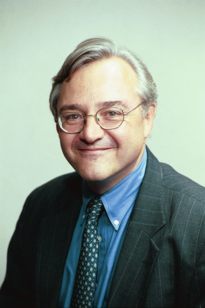 E.J. Dionne, Jr.
Columnist, The Washington Post
E.J. Dionne, Jr. is a columnist at The Washington Post and a Senior Fellow at the Brookings Institution. His column appears in some 90 newspapers.
Dionne spent 14 years with The New York Times, reporting on state and local government, national politics, and from around the world, including stints in Paris, Rome, and Beirut. The Los Angeles Times praised his coverage of the Vatican as the best in two decades.
In 1990, Dionne joined The Washington Post as a reporter, covering national politics. His bestselling book, Why Americans Hate Politics (Simon & Schuster), was published in 1991. The book, which Newsday called "a classic in American political history" and National Review described as "a gripping page-by-page analysis of what ails us", won The Los Angeles Times book prize and was a National Book Award nominee.
Dionne began his op-ed column for the Post in 1993 and has been a regular commentator on politics on both television and radio. His second book, They Only Look Dead: Why Progressives Will Dominate the Next Political Era (Simon & Schuster), published in February 1996, was described in The
New York Times Book Review as "luminously intelligent." His third book, of which he is the editor, is Community Works: The Revival of Civil Society in America (Brookings Press, 1998). Most recently, he coedited
What's God Got To Do With the American Experiment? (Brookings Press, 2000) with John DiIulio. He is a regular political analyst on CNN and National Public Radio.
Dionne grew up in Fall River, Mass. He graduated summa cum laude with a B.A. from Harvard University in 1973 and received his doctorate from Oxford, where he was a Rhodes Scholar. In 1994-95, he was a guest scholar at the Woodrow Wilson International Center. In May 1996, Dionne joined the Brookings Institution as a Senior Fellow in the Governmental Studies Program. His work at Brookings includes chairing, with Jean Bethke Elshtain of the University of Chicago, The Pew Forum on Religion and Public Life. He is married to Mary Boyle and has three children.
THE BROOKINGS INSTITUTION
1775 Massachusetts Avenue, NW Washington, DC 20036-2188
Tel: 202-797-6000 Fax: 202-797-6004
www.brookings.edu