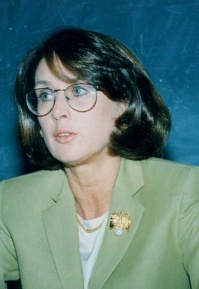 Ambassador Barbara K. Bodine
(former) U.S. Ambassador to Yemen
Barbara K. Bodine, a career member of the Senior Foreign Service, was [in 2002]** Diplomat in Residence at the University of Southern California, Santa Barbara. She last served as U.S. Ambassador to the Republic of Yemen. During her posting in Sanaa, the U.S.S. Cole was bombed in a terrorist attack. In 1999, she negotiated for hours to release three Americans kidnapped in Yemen. In 2001, a flight carrying Ambassador Bodine and 90 other passengers from Yemen was hijacked mid-flight. The plane was diverted to Africa, where it landed without further incident.
After initial tours in Hong Kong and Bangkok, Ambassador Bodine has spent her career working primarily on Southwest Asia and the Arabian Peninsula. She has twice served in the Bureau of Near East Affairs' Office of Arabian Peninsula Affairs, first as Country Officer for the Yemenis, then as Political-Military officer for the peninsula. She later served as Deputy Office Director. Ambassador Bodine has also had assignments as Deputy Principal Officer in Baghdad, Iraq, and as Deputy Chief of Mission in Kuwait during the Iraqi invasion and occupation in 1990. She was awarded the Secretary of State's Award for Valor for her work in occupied Kuwait.
Following Kuwait, Ambassador Bodine was the Associate Coordinator for Operations and later served as the Acting Coordinator for Counterterrorism. She went on to serve as the Dean of Professional Studies at the Department's Foreign Service Institute. She has worked on the secretariat staff of Secretaries Kissinger and Vance, and as a Congressional Fellow in the office of Senator Robert Dole. Most recently, Ms. Bodine spent a year as the Director of East African Affairs.
Ambassador Bodine was born in 1948 in St. Louis, Missouri. She earned her B.A. in Political Science and Asian Studies, and graduated magna cum laude from the University of California at Santa Barbara. She received her Master's degree from the Fletcher School of Law and Diplomacy in Massachusetts. She also studied at the Chinese University of Hong Kong and the Department of State's Language Training Field Schools in Taiwan and Tunisia. She is a member of Phi Beta Kappa and serves on the Board of Directors of the UCSB Alumni Association and on the Advisory Council to the Program on Southwest Asian and Islamic Civilization Studies at the Fletcher School. She was the recipient of the UC Santa Barbara Distinguished Alumni Award in 1991.
** In March, 2003, Bodine left USCSB when she was appointed to the U.S. occupation authority in Iraq. In Summer, 2003, she returned to the State Department in Washington.