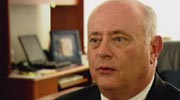 Robert M. Blitzer
(former) Chief, Domestic Terrorism/Counterterrorism
National Security Division
FBI Headquarters, Washington
Robert M. Blitzer is Associate Director of the Center for Counterterrorism Technology and Analysis of Science Applications International Corporation (SAIC) in McLean, Virginia. Blitzer is responsible for assisting federal, state and local authorities respond to the increased threat of domestic and international terrorism.
Until the end of 1998 Blitzer was chief of the Domestic Terrorism/Counterterrorism Planning Section, National Security Division, at FBI Headquarters in Washington. In that role, he focused on criminal and intelligence investigations aimed at countering domestic terrorism, including domestic preparedness operations to prevent and respond to the use of weapons of mass destruction against the U.S. population and critical infrastructure.
From 1986 to 1995, he served in the FBI's International Terrorism Operations Section, where he assisted in the management of several high profile terrorism matters, including the bombing of Pan Am Flight 103 in 1988, the World Trade Center Bombing in 1993, the plot to bomb several locations in greater New York City in 1993, and the bombing of the Alfred E. Murrah Building in Oklahoma City in 1995.
Blitzer received the 1995 Attorney General's Distinguished Service Award and the Central Intelligence Agency's 1995 National Intelligence Medal of Achievement in connection with the 1993 World Trade Center bombing assignment.
Earlier in his career, Blitzer held various FBI and headquarters positions in which he investigated and managed issues related to violent crime, organized crime, property crime, white collar crime, counterintelligence and counterterrorism.
During more than 26 years at the FBI, Blitzer was responsible for training domestic and international first responder training. Additionally, he was involved in both cyber and physical infrastructure protection.
Blitzer graduated from St. John Fischer College in Pittsford, NY, in 1968. He joined the FBI in April 1972 as a Special Agent.