Francesco Di Maio
Fashion Reporter
and Writer,
Uomo Moda
Magazine
Francesco Di Maio is a fashion rep and writer who pens articles on menswear, not only for his own Web page "Men's Fashion by Francesco," but also for the first and only menswear magazine in Egypt: Uomo Moda.
Francesco's life can be characterized by an intricate mosaic of various languages, cultures, educational backgrounds, and work experiences. He unfolded his career from education to business, focusing on international development in nearly 20 countries.
Currently based an hour outside New York City, Francesco enjoys lecturing on menswear, competitive swimming, cooking, foreign films, and international genres of music like the Bulgarian Azis, Tarkan from Turkey, and Bollywood hits.
Although the phrase "Never judge a book by its cover" has a relatively short history, being widely popularized in 1947 by Cary Grant in the movie The Bachelor and the Bobby-Soxer, the concept actually dates back to the days of antiquity.
Consequently, in most languages and cultures there exists some way to express the admonition. Despite its widespread use and popularity, however, the fact of the matter is that most cultures do judge books by their covers!
What differs, however, are the values that each culture applies in judging any given book. When it comes down to the books of fashion, apparel, and dress, this could not be more true!
Throughout my life, I have lived in eight different countries and have worked in a dozen others. Time and time again, I have been confronted with the same question: "Why are Italian men so stylish?" The answer is quite simple.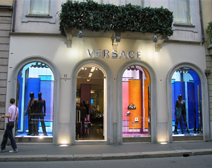 The reason lies in the degree to which Italian society judges the covers of their "books." Italians place a very high value on outer appearance as compared to other countries, such as the United States.
Fortunately, I am acquainted with the buying patterns of both Italian and American men. I worked in retail for some time in the United States and have run my own showroom in Italy. So, hopefully without transgressing into stereotypes, I will point out the major differences in values between Italian and U.S. men and the degree to which each one judges an individual's outer appearance.
Formal
In general, Italian men tend to be more formal in dress than American men, especially at the workplace. Currently, in some job settings, Italian businessmen can be seen in a jacket and tie with jeans and casual shoes — that is, as long as the jeans and shoes are stylish, meeting the standards and conditions outlined below.
Even in other social settings outside the workplace, Italian men think twice before leaving the house. For example, a young Italian man would not commonly go to a restaurant or even visit his girlfriend dressed in an undershirt, sweat pants, or gym shorts — much less in flip flops!
Fitted
Italian designer Francesco Smalto once declared "Fashion, in my opinion, is balance. It's taking into account the shape of the head, the shoulders, or the stomach." Accordingly, the first concept behind fitted or tailored clothing in Italy is proportion: Italian men value proportion, equating it to seductive elegance.
For the most part, Italian brands accentuate the male physique, creating a silhouette of broad shoulders and a robust chest as the upper garment narrows down to a thin waist. Correspondingly, the bottom wear picks up where the upper wear left off, accentuating the buttocks, thighs, and strong slim legs.
Contrary to current trends in the United States, Italian men prefer to wear clothing that corresponds exactly to their size. American men tend to "buy up," not just one size but several sizes, creating a more baggy silhouette, which they often refer to as "casual." As for Italian men, "casual" has nothing to do with size.
Frilled but Not Frilly
Another major difference in values between Italian and American male dress lies in the attention to detail. Italian men, in general, tend to pay considerable attention to detail in their dress.
First, Italian brands incorporate assorted embellishments into their designs, such as asymmetrical pockets or necklines, double stitching, extra buttoning, playful belt hoops, and so on.
Secondly, Italian men love to accessorize. It is not uncommon for Italian men to crown their heads with a pair of cool sunglasses or strap a small wallet-sized bag across their shoulders. Wrist bands, ankle bracelets, and stylish scarves complete the cover!
Italian men, however, do not restrict their attention to detail solely to clothing or accessories but rather to their entire outer appearance. Italian barbers and hairstylists, for example, exert much effort in ensuring that each "cut" corresponds to the general "look" of the male sitting in the chair. Accents of facial hair then accompany the cut to highlight the entire look.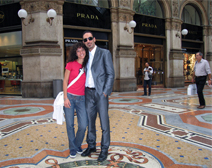 Fashionable
Italian fashion is in constant change and flux. Although there may be two major fashion seasons in Italy as with other countries — namely, Spring/Summer and Autumn/Winter — throughout the course of each season, fashion houses release minor collections called "flashes."
A flash entails roughly 15–20 new pieces, which are released about every three to four weeks throughout any given season. Each flash offers new shades on the color palette, as well as slight alterations in style.
Although American men find this hard to believe, many young men in Italy used to visit my showroom each week to inquire about new merchandise, often requesting to see a catalog to catch a sneak peek of the upcoming flash!
Fear "less"
When it comes to fashion, Italian men are not totally fearless, but they are definitely less afraid of new colors and innovative styles than American men. Virtually no color is taboo, while it is not uncommon for Italian men to adopt a radically different style from one season to the other.
In general, Americans tend to wait for a rare color or style to "catch on" before everyone can be seen wearing it. I recall the painstaking difficulty of selling the square-toed shoe to American men back in 2001. Now, eight years later, they seem like they will just not go away.
Fine Tuned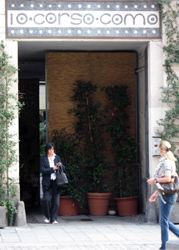 Last but not least, Italian men find great pleasure in coordinating the entire look. Coordination entails the right choice of each garment and accompanying accessories, as well as matching colors not only to other colors but also to skin complexion and hair tones.
As a matter of fact, many Italian labels promote something called "total look" collections. Total look is particularly helpful to men who are "fashion challenged"; all they have to do is purchase a complete outfit from any given collection, and they are ready to go from head to toe.
Finalmente
Despite the saying "Never judge a book by its cover," clearly both American and Italian men do use appearance to judge but according to different standards and by different degrees. As for which standard of judgment you want to apply, or even the choice of book you want to snuggle up with and read at night...well, I will let you decide that for yourself!
Top