Peter Carman
President and
Academic Director,
Paris American Academy,
Paris, France
Peter Carman is president and academic director for Paris American Academy where he contributes visionary management to the administration. Carman's extensive international contacts keep the Paris American Academy's global network thriving, while keeping the teaching and learning environment not only contemporary but even cutting-edge.
On a recent visit to the University of Delaware, I met with Dr. Hye-Shin Kim. We spent some time comparing notes on recent travels, trading stories about Paris and Milan and the role travel has played in enriching our lives.
But importantly, we discussed the benefits students derive from international study and travel. Not only does it help them form and mold opinions about international lifestyles and different methods of working, but it broadens their cultural horizons and general world view. And in the process, it can also enhance their CVs, particularly when work experience is included.
The University of Delaware first organized its study abroad initiative through the Paris American Academy (PAA) 25 years ago.
Most of the programs have had a very strong fashion basis. We have limited the size of the group to 24 students and two professors. The students have been drawn from both merchandising and fashion design career tracks. The premise has been to offer a mixed experience for all students.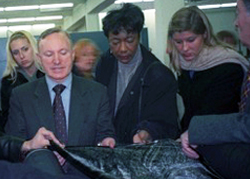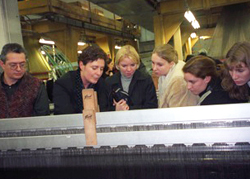 In order to appeal to both PAA and the University of Delaware student populations, this has often meant combining studio apprenticeships or practical workshops in some of the French haute couture techniques. These have included specialists overseeing the students' work in PAA classrooms using elements as diverse as lace, embroidery, bustiers, feathers, hats, and most recently, the art of shibori or nuno felting.
This has been balanced with "behind the scene views" of the European fashion industry through lectures and on-site visits by industry specialists in marketing, merchandising, trend forecasting, fashion reporting, and blogging. We have also included active participation in Paris Fashion Week either by attending the fashion shows or by backstage dressing for the haute couture and the menswear shows.
The cultural context is always present through lectures and on-site visits to the major museums and exhibitions, as well as some culinary highlights such as dinner at Maxims or learning the proper way to prepare a meal with a French chef. In some years there has also been an interest in interior design and furniture.
When the idea of an excursion to Italy first surfaced, I was more than enthusiastic. I have had a long-standing love affair with Italy. It was my first European stop when I arrived as a student from Australia. I attended the Universita per Stragneri in Perugia for a four-year study in 1968. This would give me an opportunity to return to Italy and reconnoiter.
In 1984 we were literally in another century, and so many of the tools we take for granted today like the Internet, email, and search engines such as Google just did not exist. It was a little more prosaic — we relied on letters, faxes, phone calls, and so site visits were a must.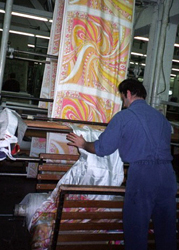 The heart of the Milan fashion district is most definetely Via Montenapoleone. It is part of a quadrangle the Italians call "Quadrilatero della moda" that includes Via della Spiga, Via Manzoni, Via Sant'Andrea and via Montenapoleone. All of the major Italian fashion designers have their main ateliers and shops there.
Hotels in the area tend to be prohibitive on a student budget. It took some research to find the right accommodations, but I was prepared, since I was armed with my trusty Red Michelin Guide, good shoes, and the remnants of my Perugia Italian classes for the site visits.
In searching for accommodations, the selection criteria always included the size and location of the hotel, as well as its proximity to quality local food. Other items on the list included public spaces, lecture space if needed for visiting specialists, the sizes and quality of the rooms, the required number of single beds, and that all rooms have bathrooms.
Proximity to the central train station was always a priority. Learning to use local transportation is as much a cultural as a navigational or orientational experience. European overnight trains can be an adventure, especially exploring all the options of sleeper cars and dining on the rails!
Next on the list of musts were design companies or factories that were willing to accept site visits from students. Timing is everything. We needed to juggle our visits so they would not interfere with production or promotion.
Finding the right people was also a must — those who were passionate about their work and willing to share. This has taken us to the fur room of Fendi, where we discussed design and product development with Alda Fendi and Roberto Massi. As Alda Fendi once told the students "sketches were only dreams until developed by craftsmen into furs and garments."
Rosita Missoni and her children Angela and Vittorio were very passionate about their work and their factory in Verase. When they saw companies closing they were perspicacious enough to invest in very specialized machinery, which is no longer available.
At Ratti in Como, we witnessed the whole process of silk screening expensive scarves for Valentino, Dior, and Yves Saint Laurent. We also had fun visiting the "outlet store" where the discounts meant the $10 tie was a perfect gift for some of the students' fathers or boyfriends.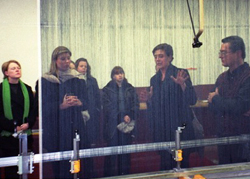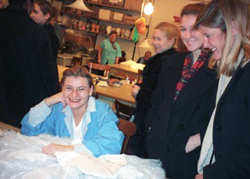 Sometimes we attended fashion shows and often visited the costume workrooms at the Teatro alla Scala. It was always a special treat to visit the offices of Vogue Italia and meet with editorial staff. They are situated just across from the huge Castello Sforzesco, which houses an extraordinary museum, including some of Michaelangelo's Slaves.
The Duomo, a lace symphony in white marble, commissioned in the flamboyant gothic style of the 14th century but actually only completed in the early 1800s, dominates the central district. The shopping district is close by; the Galleria Vittorio Emanuele houses the original Prada shop, and the Rinascenti department store flanks the cathedral. We almost always visited Salvegente which has the best discounts on designer clothing!
In Milan, the architectural styles are abundant, ranging from the brick Santa Maria delle Grazie, the Italian Art Nouveau style known as Liberty, or the monumental Mussolini fascist style of the Central Station.
Like Italy, France is also one of the last bastions of art and style. In this cyber age, French culture, with its reverence for both art and craftsmanship, is all the more valuable as we watch these resources dwindle the world over. Thus, in our own unique way, it is a privilege to try to bring the world of PAA closer to some of the creative resources that France has to offer.
Today, PAA'S curriculum specializes in fine arts, interior design, fashion, and creative writing. The continued support of the Paris art and design community and fashion industry has enabled PAA to invite major artists, architects, designers, journalists, market managers and other personalities of international repute to share their experience in either formal classes or in discussion seminars.
As our meeting wound down, Dr. Hye-Shin Kim and I commented on how perceptions of time and space have changed, especially among our more recent students. With all the clamor surrounding the digital age's impatient tools, it's hard not to wonder if the need to keep up with the insatiable demand for content has left us without the ability to focus and reflect on how to best approach one's creative calling.
Sadly, our contemporary digital wizardry has blinded more than a few to the time-honored traditions of craftsmanship and Paris' timeless sense of style. While PAA welcomes the role of technology in the creative workplace, in our little corner of Paris at least, technology will never trump tradition.
Top