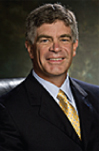 Dr. Patrick T. Harker
President
University of Delaware
I'm delighted to welcome you to the July 2009 issue of the University of Delaware's FIBER journal. I'm equally delighted that this issue focuses on India, whose rapidly rising economic profile — along with the sheer size of its population and consequential capacity for production and export — makes it one of the most watched nations in the world today.
India's economic growth has averaged 7 percent over the last dozen years. In fact, its growth in 2008 — a bleak year worldwide — was 7.3 percent. Certainly, the recession has affected India, as it has every country, but with a young, well-educated, English-speaking workforce (three times the size of the United States'), a quickly emerging middle class, and a savvy entrepreneurial spirit, this nation — the world's largest democracy — is positioned to weather the downturn and continue its steady development.
Of course, India and the U.S. have long shared a strong trade relationship, and nowhere is that strength better illustrated than in the apparel industry. India is the world's second-largest garment manufacturer, and the U.S. is its largest export market. However, with new investment potential and retailing structures in the country, the opportunities to do business not merely with India — but in India — are growing every day.
Like most nations, India is one of contradictions: dire poverty alongside great wealth, frustrating limitations yielding to tremendous opportunities. This is a time of enormous change and possibility, and the University of Delaware is thrilled to be a part of it. According to UD's strategic plan — our Path to Prominence™ — the University's success depends upon global awareness and experience. Certainly, India, the world's second most populous nation, is an integral part of our path. UD faculty, researchers, and students travel to India frequently to learn about its culture, industries, textiles, and trade, to build personal and professional relationships, and to teach others about this fascinating and important partner nation.
But, of course, there's so much more to explore. We look forward to doing just that — enthusiastically and responsibly.
I hope this issue of FIBER helps start you on your own passage to India or benefits your existing partnerships with the country. The University of Delaware is glad to have you as a reader and welcomes your feedback. Contact us at fiberjournal@udel.edu.
FIBER is the only online journal dedicated to exploring the global apparel industry from the perspectives of business, academia, and government.
The
FIBER
(Fashion International Business Education Response) project is an outreach initiative led by the University of Delaware and funded by the U.S. Department of Education. Our mission is to showcase fashion and apparel markets around the world, share the insights of industry leaders and the latest academic research on critical issues, highlight opportunities for further education, and provide a forum for the exchange of ideas, connecting members of our community around the globe.




In this issue of FIBER journal, a number of writers explore the traditions, opportunities, and challenges of the textile and apparel industries in India. From centuries-old textile production, printing, and embellishment techniques; to the emergence of gleaming, modern shopping malls catering to India's growing middle class;

to the regulatory and cultural obstacles international firms often encounter upon entering the Indian market, our authors ponder the development and contrasts of the current state of the industry in India.
Read more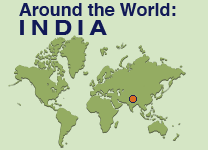 India's huge and growing population is its most fundamental social, economic, and environmental concern.
development and service. Modern agriculture, handicrafts, and a wide range of modern industries including textiles, chemicals, food processing, mining, steel, petroleum, and machinery also play roles in India's growing economy.
In addition to speaking English, India's workforce is relatively young, well-educated, and technically savvy. India ranks third in the world in cell phone use and fifth in terms of Internet users, with more than 80 million Indians connected to the rest of the globe via the Internet.

India is the world's largest democracy. Throughout its 28 states and 7 union territories, dozens of national and regional parties vie for seats in local, state, and national governing bodies.
With over 1 billion people occupying an area about one-third the size of the United States, India is a complex patchwork of ethnicities, religions, and languages. In a country with 15 official languages, English serves as the most important language for political and commercial communication.
India's economy is equally diverse, encompassing everything from traditional village farming to computer software






The American Apparel & Footwear Association helps companies remain competitive in the global marketplace.
Learn more




Study tours of India make lasting impressions on three American textile and fashion faculty.
Learn more