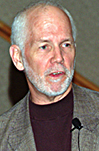 Dusty Kidd
Former Vice President, Corporate Responsibility Compliance,
Nike, Inc.
Dusty Kidd, vice president of corporate responsibility compliance at Nike Inc., was one of the first distinguished lecturers in the University of Delaware Department of Fashion and Apparel Studies' series on Fashioning Social Responsibility. Kidd, who was with Nike from 1996–2006, provided students with an in-depth look at Nike's efforts to form a socially responsible company.
Kidd's lecture, "Nike and Responsibility: A Look Into the Future," covered Nike's transition from a poster child for irresponsibility to a world leader in corporate responsibility. Kidd noted that Nike was the target of many protests during the 1990s when overseas sweatshops and child labor were exposed and actively covered by the media.
Nike has a code of conduct covering labor standards and working conditions in their contract factories. Kidd's compliance team monitors factories against these standards and then works with factories to improve compliance. One step Nike has taken to increase corporate responsibility and improve factory quality is listing on its corporate Web site the names and addresses of more than 700 contract factories worldwide producing Nike-branded products. Click here for a pdf. This is part of Nike's commitment to supply chain transparency, Kidd said.
In becoming a more responsible company, Nike is currently trying to follow the "Triple Bottom Line" — the idea that the impact of a company on people and the planet is just as important, if not more important, than profit. Kidd also noted that the key to improving corporate responsibility is innovation and growth. He described those elements as the "lifeblood" of the company.
Kidd outlined how future efforts in corporate social responsibility will be different than the monitoring currently done, focusing on public reporting, partnering with factories on compliance, and working in cooperation with others to improve working conditions in global supply chains.
With the introduction of its new line of footwear, "Considered," Nike has taken its commitment toward social responsibility to a new level. It has combined social responsibility with a commitment to sustainability without compromising on product quality. The concept behind "Considered" is to consider all elements of a product before it goes to the market.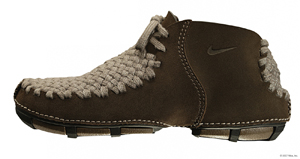 The shoe that launched Nike's "Considered" line of footwear.
The line was developed at Nike's headquarters on its 175-acre campus in Beaverton, Oregon, by the four members of Innovation Kitchen, Nike's design team. Kidd said that the Nike Considered line utilizes materials found primarily within 200 miles of the Nike factory, which reduces the energy used for transportation, diminishing climate change impacts.
The manufacturing process reduces solvent use by more than 80% compared with Nike's typical products, Kidd noted. The organic solvents have been replaced with water-based chemicals that are not harmful. Further, the leather comes from a tannery that recycles wastewater to ensure that toxins are kept out of the environment, and the leather is colored using vegetable-based dyes.
To read more on the corporate responsible actions taken by Nike, click here. >
Top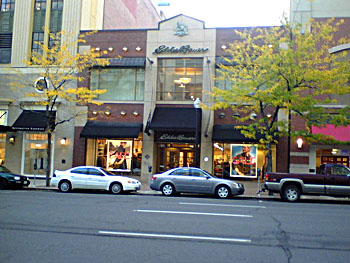 This Eddie Bauer store is located in Spokane, Washington.
Eddie Bauer is a specialty retailer that sells high-quality casual sportswear and accessories for the "modern outdoor lifestyle." It is a publicly traded multinational company with annual consolidated revenue in FY 2005 of $1 billion.
The Eddie Bauer Global Labor Practice (GLP) program is responsible for overseeing the company's compliance activities and performance with respect to its factory workplace code of conduct. Eddie Bauer first adopted a code of conduct for its suppliers in 1995. When Eddie Bauer joined the Fair Labor Association (FLA), the company adopted the FLA Workplace Code of Conduct.
The GLP program is led by the Director of Public Affairs and Corporate Social Responsibility, who reports to the Vice President of Global Sourcing and Supply Chain Operations. The activities of the GLP program are carried out at corporate headquarters and through Eddie Bauer's sourcing agent offices, Eddie Bauer International (EBI), in Hong Kong and Miami. Two full-time compliance auditors employed by EBI in Hong Kong are responsible for monitoring factories in Asia, Africa, and Europe. Six part-time compliance staff employed by EBI Miami are responsible for factories in the Americas.
EBI account managers based in the countries of manufacture provide support to the monitoring process by translating documents and assisting in worker interviews. In addition to its partnership with the Global Sourcing and Supply Chain Operations department, the GLP program also interfaces with the company's Licensing and International departments. Through these connections, the GLP program works to ensure that compliance with the factory workplace code of conduct is a condition of doing business with factories producing apparel for Eddie Bauer licensees and its joint ventures in Japan and Germany.


A. Compliance Systems Developed
Eddie Bauer reported that in 2005 it continued to mainstream the Licensing Department and joint ventures with Germany and Japan into the core activities of the GLP program. Factories supplying apparel licensees and joint ventures were reported to the FLA and were candidates for independent external monitoring visits.
The GLP program also continued to integrate non-apparel suppliers into the core compliance program. Following the FLA's accreditation review, Eddie Bauer took steps to further align the GLP program with FLA requirements, particularly with regard to code awareness, freedom of association, grievance procedures, and methods to prevent non-compliance.
B. Selected Elements in Implementing the FLA Requirements
A critical focus for the GLP program in 2005 was employee education/training. At the company's corporate headquarters, trainings were held for merchandisers and product teams responsible for establishing and managing the vendor relationship; GLP staff also delivered presentations on the program in Asia and the Americas. It also reinforced a code awareness requirement of its suppliers and tested it through worker and management interviews as well as through documentation reviews.
Further, it encouraged suppliers to participate in the FLA's Central America Project in Guatemala. The project provided a framework for suppliers to improve human resources management and practices in the areas of hiring, firing, discipline, and grievance procedures. And finally, it held meetings and discussions with local civil society organizations in countries where Eddie Bauer sources, including Guatemala, China, India, Indonesia, and Sri Lanka, as well as with international labor rights organizations.
Source: 2006 Annual Public Report, Fair Labor Association
http://www.fairlabor.org/all/2006PublicReport.pdf
Top