Q&A
Did you know that many of the brand-name blue jeans sold by U.S. retailers are produced in Guatemala? And that's not all. Guatemala is steadily emerging as a source of skilled labor for garment manufacturing.
Carla Caballeros is the manager of VESTEX, Guatemala's apparel and textile industry commission. It is part of the Guatemalan Exporters' Association, which promotes the competitive growth of exports to sustain the economic and social development of the country.
Here, Caballeros offers her insights on Guatemala's expanding role in the global market and opportunities for enhanced U.S. partnerships.
Read more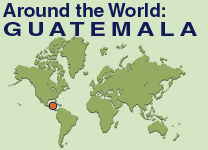 The name Guatemala, meaning "land of forests," is derived from a Mayan dialect. The country's motto is "Libre crezca fecundo" — "Grow free and fertile."
synthetic and polyester/cotton blended fabrics, and 100% cotton knits.
Most of the country's textile and clothing firms are in and around Guatemala City. In 2004, clothing exports reached $1.96 million, with more than 90% going to U.S. markets.
The country's main ports include Puerto Quetzal (Pacific), Puerto Barrios (Atlantic), and Santo Tomás de Castilla (Caribbean Sea). Cargoes take three days to reach Miami, six to eight days to Los Angeles, and ten days to New York City.
Slightly smaller than Tennessee and with a population of 12.7 million, Guatemala is the largest and most populous country in Central America.
Its narrow beaches along the Caribbean Sea to the east and the Pacific Ocean to the west rapidly give way to mountainous terrain punctuated by numerous volcanoes, some of which are still active.
Rich in Mayan heritage, evident in the bright colors of local dress, Guatemala is becoming an important center for clothing and textile manufacture, producing cotton thread, yarn, woven cotton fabrics,