Finding Your Brick
Every brick on the Diamonds Walkway has a specific set of coordinates, containing a letter and a number. To find your brick on the Walkway or obtain your brick coordinates, please reference this list or contact the Office of Development and Alumni Relations at 302-831-1943 or delawarediamonds@udel.edu. Please note the list above reflects all bricks on the Diamonds Walkway as of July 1, 2018.
Brick coordinates correspond to a specific paver and a specific quadrant on the Diamonds Walkway. The Walkway contains 22 gray diamond-shaped pavers. Each paver corresponds to a letter, beginning at the Walkway entrance on Main Street with the letter "A" and continuing to the steps of Old College, ending with the letter "V". Surrounding every paver, engraved bricks are segmented into four quadrants, as shown in the next diagram.
The Quadrant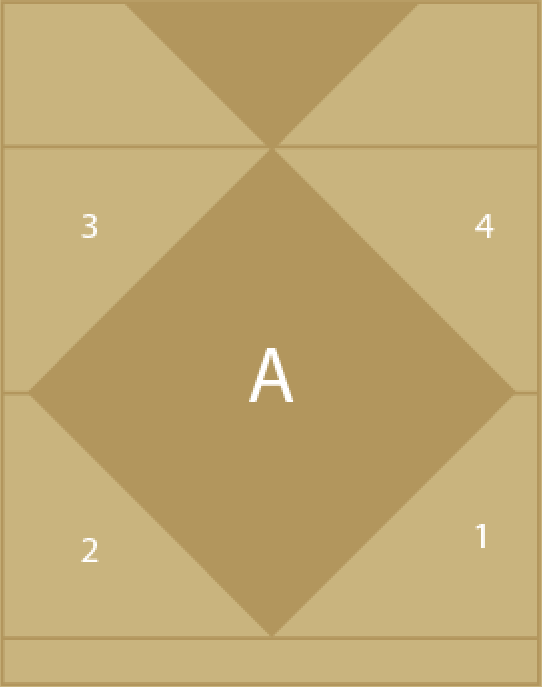 Therefore, if your coordinate is A3, your brick is located in the area to the upper left of the first diamond-shaped paver from Main Street.
Installation Timeline
Each year on June 30, a list of donors from the Delaware Diamonds Society eligible for bricks is generated. These names are confirmed with members by U.S. mail and email. Brick installation on the Diamonds Walkway occurs in September. New bricks are available for viewing in time for Homecoming.
Inscriptions
Besides your name, you can honor a family member, a professor or anyone you choose on your brick.
All inscriptions are centered on the brick. Each brick is 4"x 8" and includes space for 3 lines of copy for a maximum of 15 characters per line, including spaces and punctuation as separate characters. Symbols that appear on a keyboard and Greek letters may be used.
Inscriptions may not include commercial messages or company names. UD reserves the right to deny any language that UD deems inappropriate.