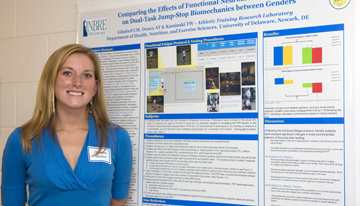 Comparing the Effects of Functional Neuromuscular Fatigue on Dual-Task Jump-Stop Biomechanics between Genders
Gilsdorf CM
, Douex AT, and
Kaminski TW
Athletic Training Research Laboratory, University of Delaware, Newark DE
BACKGROUND:
The jump-stop is defined as a vertical or longitudinal jump followed by a sudden change in direction. This maneuver mimics one of the most common mechanisms for non-contact knee injury during sport participation.1,2 Research on the anterior cruciate ligament has shown greater incidence and risk for ACL injuries in females compared to males.3,4 During jump-landing females tend to inadvertently land in a less flexed, valgus position, using increased activation of the quadriceps muscles.2,5,6,7,8 Many studies implicate neuromuscular fatigue as a causative factor for injury; however most of these data come from epidemiology, not hard science.9,10,11,12,13,14
OBJECTIVE:
To determine the gender-effects of neuromuscular fatigue on jump-stop biomechanics following a functional fatigue protocol (FFP).
SUBJECTS:
Ten healthy subjects, 5 male (age: 22.8+3.4 yrs.; height: 172.7+6.5 cm; mass: 71.8+8.3 kg) and 5 female (age: 25.2+2.6 yrs.; height: 170.2+4.4 cm; mass: 64.1+12.7 kg), volunteered for the investigation. To meet inclusion criteria, subjects must have been: (1) deemed healthy by the Physical Activity Readiness Questionnaire (PAR-Q); (2) free from illness/injury at present time; (3) physically able to complete the FFP.
INTERVENTIONS:
All subjects completed vertical-jump testing and several dual-task jump-stop conditions (3 conditions - 13 total repetitions) while 3D-motion analysis, kinetics and surface EMG were recorded from: Vastus Medialis (VM), Vastus Lateralis (VL), Biceps Femoris (BF), Semitendinosus (ST), Tibialis Anterior (TA), and Peroneus Longus (PL). Fatigue was induced via a previously-validated circuit, consisting of timed-sprinting, cutting, and jumping tasks. After each trial, a Borg (RPE) score was taken. Subjects continued to run subsequent trials with 20-second rest periods until specific blinded termination criteria were met. Upon conclusion, all subjects were immediately re-tested using the jump-stop assessment protocol.
OUTCOME MEASURES:
Knee and ankle kinematics, ground reaction force, EMG and choice reaction data were extracted per jump-stop condition pre- and post-fatigue. All data were visually inspected and analyzed using custom software. Comparisons were made using repeated-measures ANOVA (P<0.05).