NOVEL CHICK EMBRYO BRAIN
XENOGRAFT MODEL
FOR STUDY OF GLIOMAS.

Alexandra Cretu; G.R.Molloy; D.S.Galileo
Biological Sciences, University of Delaware, Newark, DE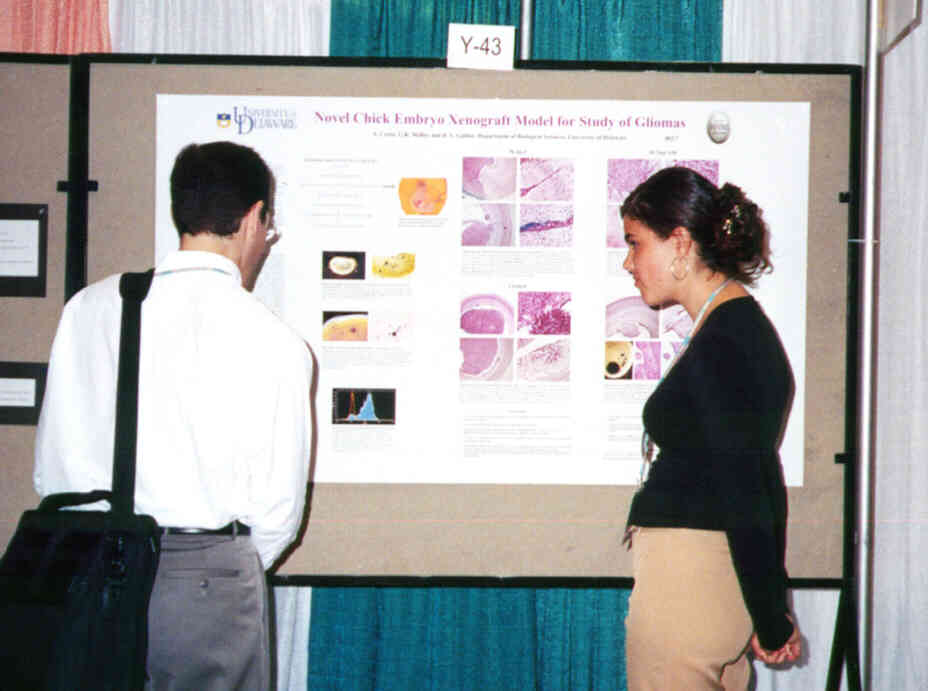 Adhesion molecules play important roles during development of the nervous system, such as in axon extension, fasciculation and neuronal migration. Some gliomas express adhesion molecules such as L1, which may facilitate their local invasiveness in brain, especially along axonal tracts. We have developed a new xenograft model to test the role of adhesion molecules like L1 in glioma cell invasiveness. Human and rat glioma cell lines were injected into the ventricle of early chick embryos on E5 to assess their ability to grow and to form invasive tumors. Tumor lines tested included U-87, C6, 9L, and a modified 9L line that was made to express NgCAM (chick L1). All lines expressed the lacZ marker gene to facilitate their observation. Brains were analyzed at various times up to two weeks after injection by X-gal staining and routine paraffin histology. All lines grew and formed tumors in the embryonic chick brain. Intraventricular tumors became highly vascularized by chick brain microvasculature. C6 was the most invasive into brain tissue, U-87 was somewhat invasive, and 9L generally stayed confined to perivascular areas. Thus, behavior of the different glioma lines was generally similar to that in the rodent brain. This demonstrates the potential usefulness of our new model for future studies of gliomas.