News & Events
---
Arnold Worldwide has appointed Marc Sobier (VC '93) as SVP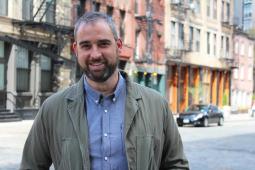 Arnold Worldwide has appointed Marc Sobier and Greg Farley as SVP, group creative directors, reporting to Global Chief Creative Officer Jim Elliott. Sobier and Farley, who both previously worked at Y&R New York as executive creative director and creative director respectively, are based in Arnold's New York office, but will supervise teams out of both Boston and New York. The pair worked with Elliott at Y&R NY, where they earned several Cannes Lions for their creative efforts on Land Rover USA. Their work on "The Vanishing Game," an interactive adventure story for Land Rover penned by author William Boyd, earned one of five ADC Tomorrow Awards for 2015. The three had previously also worked together at Goodby Silverstein & Partners.
Visiting Artist Talks, Fall 2015
Dennis Beach (9/15) – Talk Colloquium & Show @ Old College Gallery
Dennis Beach (University of Delaware, MFA, 2005), is represented by the Schmidt Dean Gallery, Philadelphia. His past exhibitions include solo exhibitions at the Schmidt Dean Gallery and most recently at Space Available in Brooklyn; his work is in several collections including Comcast, Dansko, and the Delaware Art Museum. Donald McLaughlin (University of Delaware, BFA, 1979) is represented by the Howard Scott Gallery, New York, where he shows regularly. His work is represented in several major collections, including the Eli Broad Family Foundation, Los Angeles; the Museo Rufino Tamayo, Mexico City; Pepsico, Chicago; and the Prudential Insurance Company, Newark, NJ.
Mikey Burton (9/22) - Talk Colloquium
Mikey Burton is a part time designer and a part time illustrator—which adds up to a full time Designy Illustrator. He's been working professionally for about 10 years now, which is the same length of time Facebook has been a thing. I think they are both 'still figuring it out.' He's done a lot of work in that time for clients such as Converse, ESPN, Target, The New York Times, Time Magazine, and Esquire, among others. Burton spent his formative years and earned a masters degree from the great Kent State University in Ohio.
Paul Clifford
Artist Talk: 10/6/15 at 5:00 pm, 130 Smith Hall
Recitation Gallery Exhibition: TBD
Paul Clifford is a British artist and academic who has developed his career in the UK and internationally. His art practice involves creating work for exhibition and undertaking commissions for public art projects. He is currently the Academic Consultant for Art and Design programs at Hull University. He lives in North Yorkshire, UK.  Paul states, "The transformation of found images lies at the heart of my studio practice.  I am interested in breathing new life into discarded images and exploring how an image can be seen as both old and new at the same time.  This aim is assisted by the use of printmaking and image transfer processes, techniques that are ideally suited for borrowing, reworking and interweaving layered imagery. The exhibition "Native Soil" is based upon a family album and photographs of my father's involvement with Desert Expeditionary Force in Egypt during WW1. Work reflects the experience of an uprooting from homeland and the colonial divisions of the Middle East that continue to have significance today."
William Cordova
Artist Talk: Tuesday, October 13 at 5:00 pm, Smith Hall Room 130
William Cordova is an interdisciplinary cultural practitioner born in Lima, Peru and living in Miami/New York City. Cordova's work addresses the metaphysics of space and time and how objects change and perception changes when we move around in space. Cordova received a BFA from The School of the Art Institute of Chicago,1996 and an MFA from Yale University, 2004. He has been in residence at The Studio Museum in Harlem, The Museum of Fine Arts Houston, MacDowell Artist Colony, Artpace and Skowhegan School of Painting and Sculpture, among others. He has exhibited in the US, Latin America, Europe and Asia. His work is in the public collection at the Whitney Museum of American Art, Guggenheim Museum, New York, NY, Harvard University, Cambridge, MA, the Yale Art Gallery, New Haven, CT, Museo de Arte de Lima, Lima, Peru, Ellipse Foundation, Cascais, Portugal, Museum of Contemporary Art, Miami, FL, La Casa de las Americas, Havana, Cuba among others.
Cordova states, "My work attempts to reconcile ideas of displacement and transition through the use of ephemeral residue and vernacular architecture that continually shifts and shapes what could be described as our contemporary situation.
Through the practice of drawing, sculpture, installation and collaborative projects, I venture to bring into fruition the complexity inherent in such concepts. I was born in Lima, Peru and moved to Miami, FL at an early age, spent a short time in Houston, TX, Chicago and New York City. These transitions between countries, between economies, between the nuance of language and culture have developed for me an understanding of the visual world, its' potential for limitations and its potential for resilience. I invest in these nuances to find a critical space, which pushes past complacency to modes of resistance in the present moment."
Gail Scott White
Artist Talk: Tuesday, October 27 at 5:00 pm, Smith Hall Room 13
Gail Scott White is a new media scenographer and animator who collaboratively makes "Live Movies," a hybrid art form that interactively synthesizes animation and cinematic art, and theatrical and musical elements with built environments and live performance. She has created new media scenography for dozens of productions including: White Witch at Symphony Space (NYC), B3W's Confined, Dixon Place (NYC) and Irondale Center (Brooklyn NY); Ariel Dance Theatre's Flush: The Gyre Project, Long Center for the Performing Arts (Austin TX); Maryland Opera Studio's premiere of Shadowboxer (on the life of Joe Louis), Clarice Smith Center for the Performing Arts (College Park MD). Additional new media scenography includes Cyburbia Productions' Silence & Darkness, a live movie for the cell phone age and Time Traveler Zero Zero — A Story of John Titor; Komar & Melamid's opera Naked Revolution; Marisol by José Rivera; Doctor Faustus by Christopher Marlowe; Mephisto by Klaus Mann/Ariane Mnouchkine; Moisés Kaufman and Tectonic Theater Project's 33 Variations in Arena Stage's workshop production at Georgetown University; and several productions for Encompass New Opera Theatre (NYC). Her installation work has been exhibited at the Alternative Museum and the A.I.R. Gallery in NYC. White's work has been funded by an Artists Fellowship from the Virginia Commission on the Arts, Virginia's Center for Innovative Technology, and by a National Endowment for the Arts grant for the "New Stage Technology Project." Gail Scott White is a Professor of New Media Art at George Mason University.
Visiting Artist: Michael Jones McKean
Michael Jones McKean will be visiting the department on December 3, 2015.
Michael Jones McKean (b. 1976, Micronesia) is the recipient of numerous awards including a Guggenheim Fellowship, a Nancy Graves Foundation Award and an Artadia Award. McKean has been awarded fellowships and residencies at The Core Program at the Museum of Fine Arts, Houston, The International Studio and Curatorial Program in New York City, The Provincetown Fine Arts Work Center, The Bemis Center for Contemporary Arts, The Marie Walsh Sharpe Space Program and The MacDowell Colony. Recent exhibitions include the Center for Curatorial Studies, Bard, Annedale-On-Hudson, NY; Horton Gallery, New York, NY; Manifestation Internatiationle d'art de Quebec Biennale; Gentili Apri, Berlin, Germany; The Art Foundation, Athens, Greece; Parisian Laundry, Montreal, Canada; and Shenkar University, Tel Aviv, Israel. Mckean is currently an Associate Professor of Sculpture and Extended Media at Virginia Commonwealth University
MFA Student, Tara Booth, exhibits work in "Who's Afraid of Feminism"
Congratulations to Tara Booth for a great review of her work in the NYC exhibition "Who's Afraid of Feminism."
MFA Alum, Marian Stasiorowski, Upcoming Shows
MFA alum, Marian Stasiorowski included in two upcoming shows in NYC. She will will be debuting the bound collection from her photographic series, Spillage, 2014-2015 @ Parallax Art Fair NY Open November 20-21. http://www.parallaxaf.com/newyork.html.
Marian will also be included in the group exhibition Transforming: Street Objects from Your Street to Main Street at Site: Brooklyn December 1-23, 2015, opening reception December 2. http://www.sitebrooklyn.com/.
BFA in Fine Art alum Sarah Dyer's work featured online in Beautiful Decay
More info. (External site)
Freshmam BFA Student, Becca Gispert, Featured
Freshman BFA student Becca Gispert is a featured artist in the Adobe x Colossal mural exhibit in Brooklyn.
More info. (UDaily article)
Visiting Artist: Merve Ünsal
Merve Ünsal will be coming from Istanbul, Turkey to campus this Thursday and Friday to do studio visits with 2nd year MFA students.
(from the Delfina Foundation website) "Merve Ünsal is an artist based in Istanbul. She is interested in tracing artistic production through the lecture format. She has previously explored this topic through writing, editing, and visual and verbal collages that employ automatization and found imagery.
"Merve is the co-founder of m-est.org, an artist-centered online project in which artist works, studio visits, and articles based on or related to conversations on visual practices are published.
"Merve has twice participated in Banff Centre Visual Arts Residencies and written for a range of publications in and outside of Turkey including Flash Art, DARE Magazine, and XXI.
"She received her MFA from Parsons The New School for Design in Photography and Related Media and her BA from Princeton University in Art and Archaeology."
Search Party - Recent Work by Associate Prof. Lance Winn
Opening Reception: 11/6/15, 6 - 9 pm
Closing Reception: 11/27/15, 5 - 8 pm
Chris White Gallery
701 N. Shipley St., Wilmington, DE
Additional work on view at:
Delaware Center for Contemporary Art
200 S Madison St., Wilmington, DE
November 6 - 28
This exhibition is supported, in part, by a grant from the Delaware Division of the Arts, a state agency, in partnership with the National Endowment for the Arts. The Division promotes Delaware arts events on www.DelawareScene.com.
Alumnus Highlight: Karl Lieberman
University of Delaware
BFA / Visual Communications (1995-1999)
http://www.adweek.com/news/advertising-branding/wieden-kennedy-new-york-names-new-creative-leader-after-2-big-departures-167544
http://www.karllieberman.com/index.php?/resume/
https://www.wk.com/person/karl_lieberman
http://creativity-online.com/credits/karl-lieberman/10768/1
https://www.linkedin.com/pub/karl-lieberman/1b/11/73a
"Things have been great in Portland. I loved my bosses, my partner, our team, our clients and my home. And as someone who has been a creative in advertising for a pretty long time, that feeling of contentment made me nervous and I knew it was time for a change. I am in awe of the NY office's talent, their client roster and their work. I'm assuming this promotion is a clerical error, but I'm just going to go with it."
Additional Honors & Awards
Grand Prix Cannes Integrated Lion, Bronze Cannes Film Lions, Cannes Film Merit, One Show Interactive Integrated Campaign Gold, One Show Integrated Campaign Gold, Art Director's Club Integrated Campaign Merit, AICP Next Integrated Campaign, Clios Content and Contact Gold, D&AD Integrated Campaign Yellow Pencil, Silver Cannes Cyber Lion, Bronze Titanium Lion, Gold Effie, One Show Interactive Bronze, One Show Bronze, One Show Merits, Adweek Best Spots, London International Awards Bronze, Creativity Picks of the Day, AICP Best Agency Art Direction (I was a CW/AD at the time) and Time Magazine Top 10 commercials 2007.
DO NOT PASS GO
Recent MFA graduate, Jim Desicino, showing at Philadelphia Sculpture Gym Oct. 2-30. It be featured on Articulate with Jim Cotter premiering on 10/22/15 on WHYY.
Philadelphia Sculpture Gym
1834 Frankford Avenue
Philadelphia, PA 19125
Tues-Thurs. 11-9
Fri-Sat 11-7
Sun. 12-5
Jim Desicino will also be participating in the fall residency at th La Napoule Art Foundation in France from October 27 to November 22.
THERE IS HOPE BUT NOT FOR US
Associate Professor Abby Donovan and her art collective the 181@ Unity Gallery, Maharishi University of Management, Fairfield, IA, October 10-Novemebr 12, 2015.
As a collective the 181 is interested in creating visual and performance architectures out of the sample merging and strangely hybridized "what ifs" of information transmissions and material demonstrations. Artists, a physicist/electronic engineer/musician, a mushroom forager/rockhound, and a linotype operator—any attempts to formalize their practice they view with distress.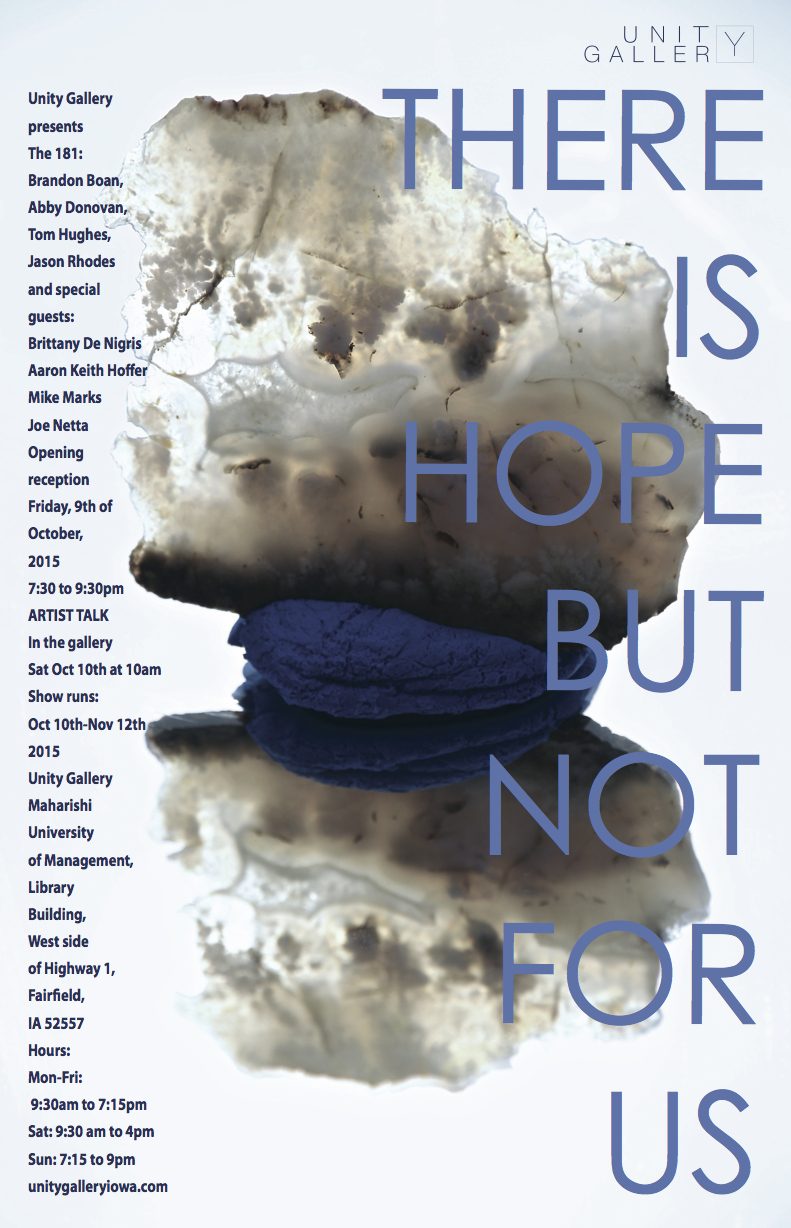 MFA student Joseph Coniff inaugurates a new gallery in Marfa Texas
Stuff Like Air: New work by Joseph Coniff @RULE Marfa
Dates: October 9 - December 5, 2015
Stuff Like Air, an exhibition of work by Joseph Coniff, debuts concurrently with the grand opening on October 9, and will be on view through December 5, 2015. The exhibition includes de- and re- constructed, tailored fabric works, as well as smaller works on paper. The tailored fabric works explore Coniff's reaction to the assumed dichotomies within a binary worldview, focusing on the perceptual possibilities inherent in relationships such as the figure and the ground. Coniff challenges the polarities of these relationships and looks with equanimity on what we might consider the foreground and the background, and the "empty" space between. Through these works, Coniff views the broken pattern as a line at which we can awake from malaise and gain a greater understanding of being.
Associate Professor Priscilla Smith: "Getting Closer to Home"
Works displayed in the DCCA Lounge, October 2-27 (approx.)
Artist's statement: "My series, " Getting Closer to Home" stems from the power of objects around me, and happenings to me. Much like radioactive isotopes, the half-life varies, and to greater or lesser degrees, continues to emanate forces that reverberate within daily experiences"
faculty exhibition
Featuring: Virginia Bradley, David Brinley, Jon Cox, Bill Deering, David Meyer, Robyn Philips-Pendleton, Priscilla Smith, Peter Williams and Lance Winn.
September 2015, Recitation Gallery.
Opening Reception: Tuesday, September 8, 2015 at 6pm.
Student Talents Showcased at STAR
As a part of their coursework during the spring 2015 semester, UD Art students painted a series of murals that are now located across the STAR Health Sciences Complex building. We invite you to join us at an event to hear about their experience and see the murals up close.
Tuesday, September 29, 2015
5:30pm-7:00pm
Program will begin promptly at 5:40pm and will include presentations by the students.
Light refreshments and self-guided tours of the murals will follow.
RSVPs are requested online.
TEDx talk by UD MFA alum Michael Kalmbach
Michael Kalmbach received his MFA from the University of Delaware in 2008. Shortly after completing his graduate studies he founded the New Wilmington Art Association, an artist collective that organized exhibitions in vacant space throughout the City of Wilmington from August 2008 to April 2013. In June 2011 Kalmbach accepted a contract with the State of Delaware's Division of Substance Abuse and Mental Health to develop a space for artists on the behavioral health spectrum. The Creative Vision Factory has been open since December of 2011, and fosters the creative potential of individuals with behavioral health disorders in a studio art environment that cultivates integration with the local community through a program of exhibitions, workshops, and communal workspace. Kalmbach maintains his own painting practice and has exhibited work in venues throughout the Mid-Atlantic including, the Delaware Art Museum, the Delaware Center for the Contemporary Arts, the Biggs Museum of American Art, and UnSmoke Systems.
Visiting Artist: Bethany Rusen working in our studios now
The Ceramics area is delighted to have visiting artist Bethany Rusen working in our studios right now. Send your students or stop by and say hello, she will be in the studio working this week with Heather Ossandon on:
Wednesday, September 16th from afternoon on
Friday, September 18th from afternoon on, and we will load and start to candle the piece overnight, firing off September 19th
There will also be a glaze firing after, which will probably take place on the Monday, the 21st or Wednesday the 23rd. She is coming back and giving a formally informal talk and slideshow, for a future date.
Artist Statement
My current body of work was initially inspired by my discovery of two distinct human dwellings: the Pruitt Igoe high rise public housing complex in St. Louis, Missouri and Kowloon Walled City in Hong Kong. the former was built purposefully in an attempt to engineer the growth of a city and to warehouse its poorer residents; the latter was built out of accident and necessity, haphazardly formed by the geopolitical forces that surrounded it. both structures demonstrate the ingenuity and hubris of humans and the structures they build. it is this hubris that i hope to convey in this work, to depict the smallness and impermanence of all human made buildings, and how we shape them and the space they are in to manipulate, disempower and erase populations of people.
Bio
Bethany Rusen graduated with a BFA in ceramics from Tyler School of Art in 2003 and earned her MFA in ceramics from the University of Massachusetts, Dartmouth in 2010. Her work has been exhibited nationally at a variety of venues, including Saratoga Clay Arts Center, Boston University and The Clay Studio. She has completed residencies at Houston Center for Contemporary Craft and Please Touch Museum in Philadelphia.
In her spare time, she likes to go through other people's trash, take her greyhounds to the dog park and scour the internet for Richard Nixon memorabilia. She is currently the ceramics studio technician at Main Line Art Center in Haverford, PA and lives in a townhouse in West Philadelphia full of strange things. Her hair is usually pink.
Her work can also be viewed on: bethanyrusen.com
Professor Hicks' animation piece exhibited
Cross-Pollinated: Hybrid Art Abuzz
Center for the Arts Gallery, Center for the Arts, Towson University
Sep. 11 - Dec. 12, 2015
Opening Reception: Sep. 10, 7:30-9 pm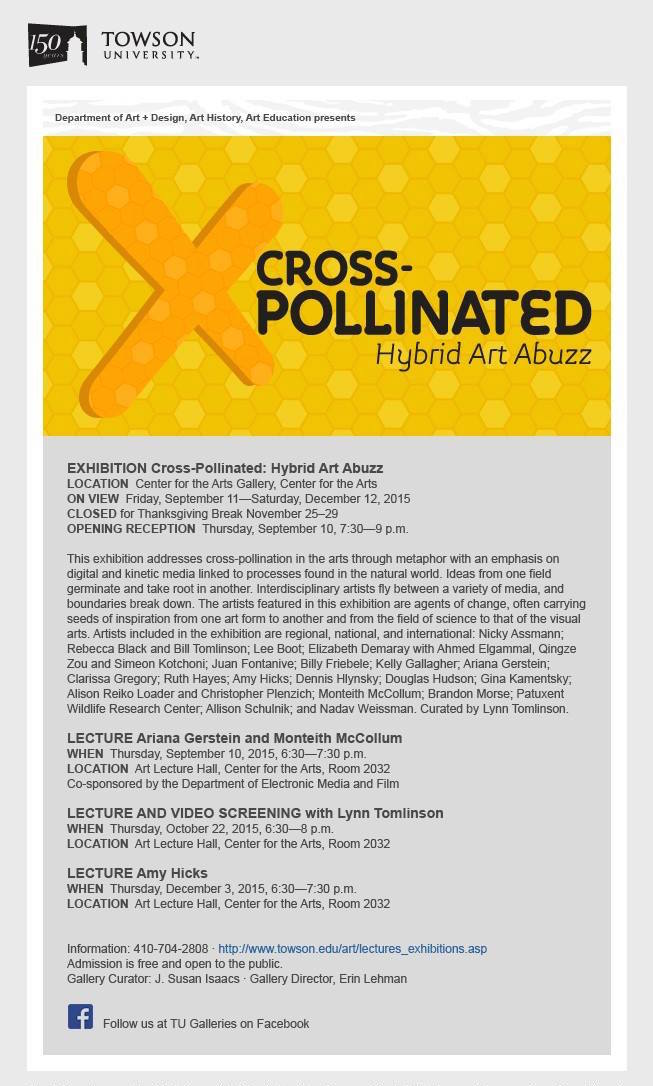 2nd year MFA, Tara Booth, and MFA grad, Heather Ossandon, Featured
2nd year MFA Tara Booth has work in the exhibition "Who's Afraid of Feminism?" with an artists' reception on Thursday, September 10th.
Venue information: info@airgallery.org
Online catalog: http://issuu.com/karengutfreund/docs/whos_afraid_of_feminism_for_issuu
Online gallery: http://www.nationalwca.org/nationalshows/whoseafraid.php#gallery
Recent MFA grad Heather Ossandon has work featured in the "Who's Afraid of Feminism?" catalog, available for purchase at the exhibition or through Amazon:
http://www.amazon.com/gp/product/1514231905
Daniel Giordano, 2nd Year MFA, screening
2nd year MFA Daniel Giordano will have his work A TYPICAL DAY IN KANSAS: A VENUS FERTILITY FANTASY screening as part of the 3rd annual 30 under 30 film festival on Saturday, September 6th:
CINEMA SATURDAY - FULL CIRCLE POST
Full Circle Post NYC, 135 West 20th Street, Fifth Floor
(between Sixth and Seventh Aves.)
Drinks and Snacks will be available. Feel free to BYOB.
BLOCK 2 - 3:30pm - 6pm
Shorts Screening 3:30pm - 4:45pm
AMONTILLADO directed by Carolina Gómez de Llarena
A TYPICAL DAY IN KANSAS: A VENUS FERTILITY FANTASY directed by Daniel Giordano
RAISED IN THE SOUTH OF NORMAL directed by Daniel Espeut
buy your tickets here:
https://www.eventbrite.com/e/the-2015-30under30-film-festival-cinema-saturday-only-tickets-18339923204
Professor Brinley invited to China
Associate Professor of Art David M. Brinley was recently introduced by UD Trustees Distinguished Professor of Music Xiang Gao to two of the most prestigious universities in China, and started connecting with both institutions and representing UD as a visiting artist this past summer.
Brinley was personally invited by East China Normal University's Art and Design Department Chairs Tianyu Wei and Wei Shaonong to visit from May 22 - June 6 in Shanghai. He was also invited to Xiamen University from June 7 – 11th by Dr. Qi Yeuchun, Vice Dean College of the Arts at Xiamen University.  Both universities are UD partner institutions.
At ECNU, Professor Brinley first gave a lecture on his professional career as an international illustrator and artist in the USA and conducted a two-week workshop with twenty students in the School of Design. This international opportunity and visit concluded with an exhibition of student work in ECNU's Fashion Design Center.
At XMU, Brinley's lecture and workshop was developed for thirty undergraduate and graduate students participation in the Art and Design school. This opportunity and visit for a full five days explored social, ethical, economic, cultural, and political issues that students expressed by developing their own content and creating conceptual illustrations.
Along with a generous IGS-Globex Grant and department support from the University Delaware, the trip also allowed for Brinley to collect personal research for a new body of work influenced by his time in China visiting many of the cultural landmarks in Shanghai, Xiamen, and Beijing.
Students at both universities were very interested in the contemporary intersection between fine arts, illustration, design and the relationship Brinley has with students studying in the UD Art Department. Brinley plans to further cultivate the cultural exchange between campuses, as well as the international relationship he established between UD and both world-class universities during the residencies.
Recent work by Brinley was selected for Creative Quarterly #40, Communication Arts Photography Annual #56, Society of Illustrators Annual #57, and upcoming American Illustration Annual #34.
Lindsay Yaeger, BFA Grad
Lindsay Yeager, 2015 graduate of the BFA-VC program partners with the Dare Women's Foundation to empower women in Africa through access to feminine hygiene products. More info.
Jon Cox named National Geographic Explorer
Jon Cox, Photographer/Cultural Mapper, Information, Facts, News, Photos -- National Geographic
Alumnus Adam Lovitz Show - "Richard Said"
Richard Said is a group show formed in response to written excerpts by Alex Roth, whose studio practice is based in a post industrial, American landscape: a flood-damaged, active coal mining community in Pennsylvania where a living and dissociative history causes daily interactions to become charged and tentative. A fire that began in on of the local mines in the 1980s still burns, causing steam to rise from the surrounding hills.
Richard Said examines the overlapping nature of language, both written and visual.
Exhibiting Artists include:
Sarah Faux
Nick Parker
Alex Roth
Philippa Beardsley
Ashley Wick
Mariel Joan Capanna
Organized by Adam Lovitz and Alex Roth.
Opening Reception
June 5, 2015
7-10 pm
Fjord
2419 Frankford Ave
Philadelphia, PA
Alumnus Ricardo Rivera Wins Prestigious Award
Congratulations to UD Department of Art Alum Ricardo Rivera for winning a prestigious Creative Capital Award in 2015!
Klip Collective (Josh James and Ricardo Rivera) (Philadelphia, PA)
Funded Project: Vacant America, a series of videos projections on vacant structures that draw on crowd-sourced stories and imagery to uncover physical residues and memories of each forgotten space. For more information: http://creative-capital.org/news_items/view/535 .
Visiting Artist: Chitra Ganesh
Colloquium at April 21, 5:00 pm in Smith Hall 130
Chitra Ganesh is a Brooklyn based artist whose drawing, installation, text-based work, and collaborations suggest and excavate buried narratives typically absent from official canons of history, literature, and art. Ganesh graduated from Brown University with a BA in Comparative Literature and Art-Semiotics, and received her MFA from Columbia University in 2002. She has held residencies at the Lower Manhattan Cultural Council, New York University, Headlands Center for the Arts, Smack Mellon Studios, and the Skowhegan School of Painting and Sculpture, among others. Her works have been widely exhibited across the United States including at the Queens Museum, Asia Society(New York), Berkeley Art Museum, Museum of Contemporary Art San Diego (California), and the Contemporary Arts Museum in Houston, with solo presentations at PS1/MOMA (New York), The Andy Warhol museum (Pittsburgh) and Goteborgs Konsthalle (Sweden). International exhibition venues include MOCA (Shanghai), Fondazione Sandretto (Italy), Monte Hermoso (Spain), Kunsthalle Exnergrasse (Austria), Kunstverein Göttingen (Germany), and the Gwangju Contemporary Arts Centre (Korea).Her works are represented in prominent international collections such as the Museum of Modern Art, Philadelphia Museum of Art, San Jose Museum of Art, Baltimore Museum of Art, the Saatchi Collection (London), Burger Collection (Zurich) & Devi Art Foundation (New Delhi). Ganesh is the recipient numerous awards and fellowships including the Art Matters Foundation, the Joan Mitchell Foundation for Painting and Sculpture, and a 2012 John Simon Guggenheim Memorial Foundation Fellowship in the Creative Arts. Upcoming solo exhibitions include a site-specific commission at the Brooklyn Museum opening in December 2014.
Quack'd: Not Yet Famous Artists Revealed
You know you want it! Drop off your best work from 2014-2015 and participate in the biggest event of the year! Yes, it's the annual undergraduate juried show.
All accepted work will be exhibited at the Chris White Gallery, Wilmington, DE from April 17 to 24. The opening reception is on Friday, April 17th at 6pm.
Show juror: Kate Kraczon of ICA University of Pennsylvania.
Prizes! Awards! Prizes!
1st Prize / Best of Show - $200

Judith Wanderer, Katelyn Conte, and Lauren Robins for Virtual Identity Projection

2nd Prize - $150

Kristy Chong for Ms. Phoenix Rising

3rd Prize - $100

Danielle Wegrzyn for The Assembly

Juror's Choice Award - $50

Jamie George for Untitled

2 Honorable Mentions - $50/each

Emily Greene for Frozen
Emily Brymer for Celebrate People's History: Feminist Comix
How To Participate:
You may submit up to three (3) works. Drop off your artwork ready to hang in the second floor crit space of the Studio Arts Building from 9:00 am to 4:00 pm on Friday, April 10th. All submissions will be secured. The second floor crit space will be locked promptly at 4:00pm. No work will be accepted after that time.
All work must be ready for display. Works on paper should be hung in the way the artist would like it displayed at the Chris White Gallery. Students must fill out an entry form (see below) for each piece they wish to be considered. Forms should be taped to the back of flat work or attached in some way to the 3-d work. Digital works must be displayed as video, (gallery cannot provide computers). Videos must be on clearly marked DVDs, looped and ready to play on a standard definition DVD player. Sculptural work must be self-supporting and transportable to Wilmington. Faculty must be consulted for advice on large-scale and installation proposals. The exhibition committee retains the option to require showing photos or video of a piece if it is too hazardous or unmanageable for the space. Work that is not ready to exhibit and/or wet paintings will not be juried. Please note that the work is not insured.
Fill in an entry form and attach it to your work. Entry forms are available in the Art Office and online at:  http://www.udel.edu/art/quacked2015.pdf
Jurying will take place on Monday April 13th. We will notify you on the status of your submission via email on the same date: Monday, April 13th.
Any work NOT accepted for the exhibition will be placed in the second floor hallway for pick-up on Monday afternoon. Accepted work will remain in a secured space. Through out the day work NOT accepted will be moved to Taylor Hall and stored in the individual rooms across from the equipment cage. All unaccepted work will be moved to Taylor Hall by the end of the day. You must pick-up your work by visiting the cage during open hours (Hours posted: http://sites.udel.edu/art-tech). Any work remaining in Taylor Hall @ 7:00 pm on Friday, April 17, 2015 will be discarded.
UPDATE: Selected works for juried show (Artist(s) - Title)
Danielle Wegrzyn - The Assembly
Mary Claire Birmingham - Anxiety Winning
Mary Claire Birmingham - Time
Matthew Cristello - Losing Self
Allie Yacina - Piece of Meat
Sara Pfefer - 3 Frames
Jaye Thompson - Untitled
Jimmy Parker - Chew On This
Felicia Gordon - Clay Menagerie
Lindsey Washall - Say Cheese
Jamie Noce - Construction; Delivered
Jamie Noce - "(unititled) porcelain, wood shelf"
Zack Bend - Distorted Reflection 1; Distorted Reflection 2
Jamie George - Untitled
Rebecca Guzzo - Fractals (1 of 2)
Kristy Chong - Ms. Phoenix Rising
Kristy Chong - Ms. Porcelain
Kristy Chong - Ms. Isis
Charlotte Talis - Hanging
Charlotte Talis - Trippy I
Charlotte Talis - Trippy II
Emily DiMaio - Anxiety
Emily Arnot - Villiage Boy
Emily Greene - Frozen
Brittany Katz - In Conversation
Emma Fontaine - Up A Lazy River
Emma Fontaine - Fireworks
Haley Dabkowski - Goddess of the Sea
Emily Brymer - Celebrate People's History: Feminist Comix
Amber Johnson - Never Let Me Go
Amber Johnson - Born Confused
Judith Wanderer, Katelyn Conte, Lauren Robins - Virtual Identity Projection
Rebecca Guzzo - Fractions
Kristin Jankowski - Embrace Equality
Visiting Artist: Tristin Lowe
5:00 PM, April 14, 2015, Smith Hall, Room 130
Tristin Lowe is a multi-disciplinary artist whose practice delves into the crude and rude, absurd and abject, pushing low-brow, low-tech methods and materials toward unexpected ends. The artist makes drawings from grease paint and fire, uses edible materials such as butter, chocolate and alcohol to make hilarious and sad installations (beds that wet themselves, pillows that smoke), and handcrafts exquisite reproductions of both animate and inanimate objects (an upended trashcan sewn from felt, a mangy, fake-fur fox, a two-story folding chair). Lowe's wry re-imaginings lead the viewer down a path littered with chaos, comedy, and failure.
Tristin Lowe received his BFA from Massachusetts College of Art and studied at Parsons School of Design and Skowhegan School of Painting and Sculpture. The artist has exhibited widely at The Virginia Museum of Fine Arts, Richmond; The American Academy of Arts and Letters, New York; Museum of Art, Rhode Island School of Design, Providence; The John Michael Kohler Arts Center, Wisconsin; Royal Hibernian Academy, Dublin; New Langton Arts, San Francisco; University of California, San Diego; Hudson D. Walker Gallery, Provincetown; Museum of Contemporary Art, Australia; the Fabric Workshop and Museum, Philadelphia; the Philadelphia Museum of Art; and the Centre d'Art Contemporain, Switzerland. He has been awarded a Smithsonian Artist Research Fellowship, Pew Fellowship, Provincetown Fine Art Work Center Fellowship, The Fabric Workshop and Museum Residency, and Girard College Residency. He was co-founder and co-director of the non-profit gallery Blohard. Lowe's work is in the collection of the Philadelphia Museum of Art, The Pennsylvania Academy of the Fine Arts, and The West Collection, as well as numerous private collections.
MFA Student Brian Wagner: Brick Layers Opening
Brick Layers
Presented by Washington Sculptors Group at the Workhouse Arts Center
EXHIBITION ON VIEW:
April 11 - June 28, 2015
OPENING RECEPTION:
Saturday, April 11, 2015, 6 -9 pm
Exhibition Juror:
Jennie Shanker
PARTICIPATING ARTISTS
May Britton
Elizabeth Burger
Elsabe Dixon
Steven Dobbin
Margo Elsayd
Frank Fishburne
Mimi Frank & Francesca Bozzelli
David Grainger
Adam Hager
Mia Halton
Artemis Herber & Eunsook Lee
Ruth Lozner
James Mallos
Susan McElhinney
Judith Pratt
Mike Shaffer
Anna D. Smith
Paul Steinkoenig
Brian Wagner
Dane Winkler
Fabiola Alvarez Yurcisin
The Washington Sculptors Group and Workhouse Arts Center are pleased to present the exhibition Brick Layers, opening at the Workhouse Arts Center, Lorton VA, on Saturday, April 11, 2015 with a reception from 6-9pm. The exhibition will remain on view through June 28th. The exhibition presents the work of twenty-three artists in the Vulcan Gallery and outdoor spaces. A panel discussion will take place on Friday, April 24, 2015 in conjunction with International Sculpture Day.
"Brick Layers features artworks which are grounded in the rich and layered history at the site of the Occoquan Workhouse. The work of these 23 artists engages in conversations of current and historic significance related to the penal system, the Suffragists, and the use of labor and natural resources as a vehicle for suppression or liberation.
The Workhouse buildings were made by the hands of its early prisoners. The penalty for their non-felony crimes was a term of forced labor. Made from scratch, each of the buildings' bricks were formed from clay and fired in their large beehive kiln. Brick by brick, the incarcerated built walls for imprisoning others over time. Workhouse hands supplied much of the brick used for the construction of housing in DC at the time as well.
Later in its history, the abuse of imprisoned Suffragists by guards at the Workhouse was a key event leading to the passing of the 19th Amendment to the Constitution, giving women the right to vote.
The work in the show humanizes these histories from the site and encourages conversation about topics that continue to resonate to this day."
~ Jennie Shanker, Juror
PANEL DISCUSSION
Saturday April 24, 2015, 7:30pm
A Discourse on the Provenance of Space in relation to the Sculptural Object.
In conjunction with International Sculpture Center's IS Day. IS Day is an annual celebration event held worldwide on April 24 to further the ISC's mission of advancing the creation and understanding of sculpture and its unique, vital contribution to society.
ABOUT THE JUROR
Jennie Shanker is a Philadelphia-based artist, curator, educator and activist. In 1996, Philadelphia's historic Eastern State Penitentiary hosted "Prison Sentences: Prison as Site, Prison as Subject", curated by Julie Courtney and Todd Gilens. Jennie oversaw the safety of the site and the installation of the artworks in the exhibition. Since then, Eastern State has recognized the contributions that artists can make in the interpretation of an historic site, and has maintained a unique, highly regarded program of artist installations. She continues to act as a consultant in the selection and installation of artist projects for the site. She teaches sculpture, ceramics, and community arts courses at Tyler School of Art, and also teaches in the graduate studio art program at the University of the Arts.
ABOUT THE WORKHOUSE
Workhouse Arts Center: An innovative collaboration of visual and performing arts and education in the unique historic setting of the former DC prison.
Workhouse Arts Foundation Mission: To be a self-sustaining, thriving arts center with programs in the visual and performing arts and arts education through the repurposing of the former Workhouse correctional facility.
Workhouse Arts Center Vision: Leverage the architectural heritage of the former Workhouse correctional facility by transforming it into a unique arts center that provides visual and performing arts, arts education and entertainment for the community-at-large.
LOCATION
Workhouse Arts Center
9518 Workhouse Way
Lorton, VA 22079
www.WorkhouseArts.org
GALLERY HOURS
Wednesday - Saturday, 11am-6 pm
Sunday, 12-5 pm
Visiting Artist: JJ Peet
5:00 PM, April 7, 2015, Smith Hall, Room 130
JJ PEET utilizes a multitude of processes including ceramics, drawing and video in the investigation of current affairs, civil protests, class and power. Recent solo exhibitions include The Contemporary Austin, Austin, TX (2015), Redling Fine Art, Los Angeles, CA (2013) and On Stellar Rays, New York, NY (2012, 2010, 2009). PEET's work has been in publications such as Artforum, Bomb, Modern Painters and Purple. JJ PEET received his MFA from Yale University School of Art in 2006 and his BFA from the University of Minnesota in 1999. He teaches at Columbia University and the 92nd Street Y in New York City.
PEET currently lives and works on Earth.
Spring 2015 Visiting Artist
Our visiting artist lectures will be held at 5:00pm on Tuesday's in Smith Hall Room 130.

[an error occurred while processing this directive]