Grad student wins American Heart Association fellowship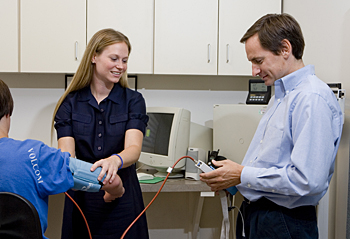 Click here to see a video on Prof. William Farquhar's research on hypertension.
3:18 p.m., July 23, 2008--Megan Wenner, a doctoral student in biomechanics, has received a prestigious, competitive American Heart Association (AHA) fellowship to work on research for her dissertation project.
She is studying the effect of salt intake on persons who take Celebrex, a prescription drug for arthritis, to see if the drug increases sensitivity to salt. Specifically, she is determining its effect on blood pressure and the way the kidneys get rid of salt.
"This is a strong project, and a great experience for her to be directing a trial," said William Farquhar, assistant professor in the Department of Health, Nutrition and Exercise Sciences who is her adviser. "The fellowship is very competitive, and her application scored in the excellent rating. The AMA fellowship is a good career progression for her."
In the Celebrex study, 32 volunteers are given a strict diet. Each participant receives in a cooler the food they are to eat each day for 17 days, without any "cheating." There are two sessions, a month apart. The volunteers are given Celebrex one session and a placebo the other session.
The first three days the diet includes a normal amount of salt. This is followed by a week of high salt content and then a week of low salt. The volunteers' blood pressure is taken using a cuff and also using ultrasound, and urine samples are analyzed for sodium.
"This a blind trial and we won't know the results until the findings are finished and analyzed," Wenner said.
Part of the AMA fellowship includes training and working at a laboratory at Wake Forest University that specializes in biochemical analyses, where Wenner will do research on how fluid regulatory hormones balance change with Celebrex.
A graduate of West Chester University, Wenner received her master's degree from UD. After completing her doctorate Wenner will move to Yale University where she will work in the John B. Pierce Laboratory with Nina Stachenfeld, whose expertise is reproductive hormones and body fluid regulation.
Article by Sue Moncure
Photo by Kathy Atkinson