Six complete program to aid those with disabilities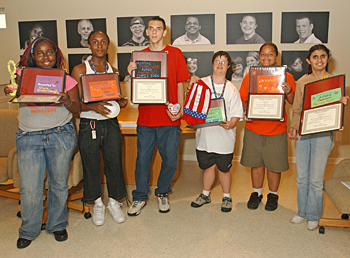 3:54 p.m., July 2, 2008--It was a leap of faith for the six high school students who took part in the Summer Transition Education Program (STEP), a weeklong, interactive college experience on the UD campus for young adults with disabilities. But, by the time they attended the STEP graduation ceremony, Friday, June 27, at the Total Life House, they all seemed confident that this first step won't be their last.
STEP is part of the Total Life Project, a model demonstration transition project developed by UD's Center for Disabilities Studies to empower young adults with disabilities to achieve greater independence, develop social networks and realize employment outcomes.
STEP is a "transition program to help our youngsters into adulthood," said Darlene Arena, director of the pilot project. "They worked on advocacy issues, health and independence. For some it was the first time they've been on their own and even shared a room," she said.
Allen Bennett, Olivia Brokenbrough Christopher Eden, Leala Dodd, Mariam Nabi and Michael Pasquale began their journey toward more independent lives on Sunday, June 22, when they moved into the George Read North Residence Hall on the Laird Campus and started on a week of career exploration, advocacy development, college-life orientation and goal setting.
Each night, the students participated in fun, hands-on activities and social events mentored by six coaches. During the day, they attended lectures; went on a walking tour as part of DelaWorld, UD's new student orientation; engaged in team-building exercises; and worked on goal-setting.
"It gave us a taste of what it is like to be on your own," Eden said. Dodd said she started by making a list of morning rituals and Pasquale came away from the program convinced he will one day "have my own space."
The program, cosponsored by the Center for Disabilities Studies in partnership with the Division for the Visually Impaired (DVI), included meals at Pencader Dining Hall, dormitory housing, classes, evening activities and materials.
For most, it was the first time they were away from home and on their own, and for all it was an experience they said they hope will help them be less reluctant to strike out on their own.
"It was one of the most rewarding experiences I've ever had," said Nabi, who is blind. "Initially, I didn't want to be here. But, it was a smaller setting than I had anticipated."
Nabi said the experience was so positive, that she is considering applying to UD when she graduates from high school in May.
Article by Barbara Garrison
Photo by Duane Perry