Princeton Review includes UD among 'Best 368'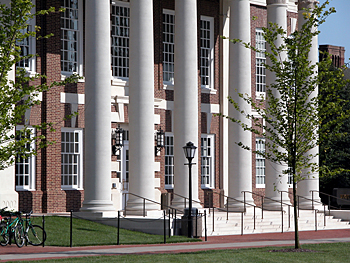 10:42 a.m., July 31, 2008--The University of Delaware is one of the nation's best institutions for undergraduate education, according to The Princeton Review.
The New York-based education services company features UD in the just-published 2009 edition of its annual book, The Best 368 Colleges. Only about 15 percent of America's 2,500 four-year colleges and two Canadian colleges are in the book.
"We chose schools for this book primarily for their outstanding academics," Robert Franek, Princeton Review's vice president for publishing, said. "We evaluated them based on institutional data we collect about the schools, feedback from students attending them, and our visits to schools over the years. We also consider the opinions of independent college counselors, students and parents we hear from yearlong. Finally, we work to have a wide representation of colleges in the book by region, size, selectivity and character."
In the book, UD students expressed excitement about the future of the University under President Patrick Harker, who recently completed his first year in office and has unveiled a Path to Prominence™ strategic plan.
Results of a campus survey showed that "students are happy" and success-oriented, and that UD offers "great computer facilities" and has a "great library."
UD earned an academic rating of 79, a quality of life rating of 75, a fire safety rating of 93 and a green rating of 81. This was the first year for the Princeton Review green rating, which measures the overall institutional commitment to environmental responsibility, whether students have a campus quality of life that is healthy and sustainable, and how well the school is preparing its students for employment and citizenship in a world defined by environmental challenges. For more on UD's sustainability efforts, see [www.udel.edu/sustainability].
Students expressed concern about online registration, for which UD is rolling out an improved Web-based module that was used during the summer DelaWorld sessions for new students and that will be available to the full student body this fall.
The Princeton Review ranking lists are based on the publication's survey of 120,000 students, about 325 per campus on average, attending the 368 colleges noted in the book. A college's appearance on the lists is attributable to a high consensus among its surveyed students about the subject. The 80-question survey asked students to rate their schools on several topics and report on their campus experiences.
Ranking lists report the top schools in categories that range from best professors, administration and campus food to student body political leanings, sports interests and other aspects of campus life. The Princeton Review does not rank the colleges in the book in 1-368 in any category, nor do the rankings reflect the publication's opinion of the schools.
The Princeton Review [www.PrincetonReview.com] is known for its test preparation, education and college admission services. It is not affiliated with Princeton University and it is not a magazine.
Article by Neil Thomas