UD researcher is building a better lima bean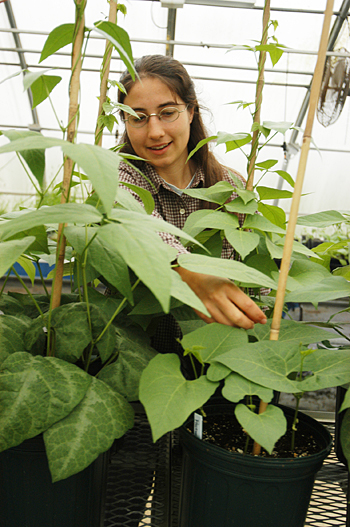 8:56 a.m., July 3, 2008--Scientific research is usually conducted in high-tech and climate-controlled laboratories but it also can take place in hot, dusty farm fields. Just ask Emmalea Ernest, who frequently spends her work days in the fields of Sussex County, Del., driven by her quest to build a better lima bean.
A UD Cooperative Extension associate for vegetable crops, Ernest is seeking to develop new varieties of lima beans that are flavorful, produce consistently high yields and are resistant to disease.
She is the only researcher in Delaware working on lima bean breeding and genetics and one of perhaps a half-dozen nationwide. "Lima bean research is lonely work," says Ernest. But her research is vitally important to Delaware agriculture.
Grown primarily for processing, lima beans are planted on more acres in Delaware than any other vegetable crop. Baby limas and Fordhook varieties are used in processing; the small amounts of pole lima beans grown in the state are strictly for the fresh market.
Lima beans can be double cropped, thus offering growers maximum utilization of their land. Limas are often planted in June or July after a pea or small grain crop. And the same harvesting equipment is used for peas and limas, which makes this double-cropping even more advantageous.
However, lima bean growers face many challenges, the biggest of which is called downy mildew. This fungus disease can cause heavy losses when weather conditions favor its development. Ernest is working on baby lima varieties that are resistant to downy mildew.
She also is working on varieties of Fordhook limas that are well-suited to Delaware growing conditions. Fordhooks aren't just mature versions of baby limas but a totally different bean. Known as butter beans in the southern U.S., Fordhooks are larger, lighter in color, and have a stronger taste than the baby lima varieties. "Industry research indicates that consumers are more receptive to increasing their consumption of Fordhooks than baby limas," says Ernest.
More Fordhook limas are grown in coastal California than any other area of the country, not only because of the long season but because temperatures are never excessively high. Ernest's goal is to create high-quality, heat-tolerant Fordhook limas that will flourish despite Delaware's hot and humid summers.
When Ernest joined UD Extension in 2004, her first order of business was considering which germplasms would form the basis of her breeding program. She accessed the USDA's germplasm repository and considered 219 different lines of limas from North and South America. Then, she crossed her initial selections in a greenhouse.
That first spring (and every spring since) she has planted the results from these crosses in research plots located at the University of Delaware's Research and Education Center in Georgetown. All summer long, Ernest conducts visual inspections of her lima crosses and tracks a number of variables, such as each plant's size and habit, the number of pods, and the plant's resistance to disease and insects.
There is a science to such visual inspection but there's an art to it, too. "I'll randomly open some pods and look at the beans and ask myself if I would want to eat them," says Ernest.
If the beans are speckled, Ernest rejects the plant. "Older and exotic cultivars of limas often are white or speckled. Limas can come in a range of colors, including red, purple, brown, and almost black," says Ernest. "But consumers expect to see a pale green bean."
A few of these rejects get dried and added to a large jar of colored and speckled beans that Ernest keeps in her office. "They aren't any good for research but I just like the look of them," says Ernest.
In September she virtually lives in the fields. That's when she must select a handful of plants--out of thousands--to save for cross-breeding in the greenhouse. Each morning, she sets out for the fields with a ball of red yarn tucked under her arm. Crawling between the rows of lima plants, she makes her selections and ties a bit of yarn around the "keepers." The seeds of these plants will then be advanced a generation in the greenhouse as Ernest continues her trial-and-error process of bean breeding.
Plant breeding is a slow, tedious process. Cultivars should be evaluated for multiple years prior to release. This summer, after four years of research, Ernest is finally ready to test 12 of her inbred lines of limas against proven industry varieties. And unlike conventional research laboratories, where conditions can be carefully controlled, lots can go wrong in Ernest's "outdoor laboratory."
"My biggest 'Oh, no' moment was the summer of 2006 when we had seven inches of rainfall in a short amount of time," says Ernest. "Half of my research plots were flooded and I lost a number of plants. It really set my research back that year."
Ernest, who is native of Lancaster County, Pa., received a bachelor's degree in horticulture from Penn State University and a master's in plant breeding and genetics from Michigan State University. She joined the staff of UD Cooperative Extension after meeting Ed Kee at a meeting of the Bean Improvement Cooperative, an international association of bean breeders from both the public and private sectors. Kee, who retired from UD Extension earlier this year, was impressed with Ernest and encouraged her to apply for an open position as an assistant researcher.
"Emmalea Ernest shows so much potential; she is one of the rising young stars of UD Extension," says Jan Seitz, associate dean of the College of Agriculture and Natural Resources and director of UD Cooperative Extension. "After four years of hard work, this summer she is ready to test her inbred lines of limas against industry varieties. I'm eager to learn of the results."
When she's not focused on improving lima beans, Ernest conducts research on watermelons, peas, pickling cucumbers and other vegetable crops that are important to Delaware. The Ellendale resident says she loves living in Sussex County and enjoys being outside as much as possible, though she saves her beach outings for winter, when the crowds are gone. She also likes knowing that her work makes a difference to her farming neighbors.
"I've always been fascinated by plant genetics--it's rewarding to be able to change plants for the benefit of humans," says Ernest. "I hope my research may someday improve lima beans for growers here in Delaware and nationwide."
Article by Margo McDonough
Photo by Danielle Quigley