Dee Kirchner named HR Liaison of the quarter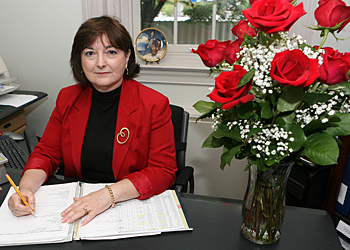 3:15 p.m., July 16, 2008--Dee Kirchner, an administrative coordinator in UD's College of Marine and Earth Studies, has been selected as the Human Resources (HR) Liaison for the second quarter of 2008.
Kirchner, who received a bouquet of a dozen red roses when she arrived at work Monday morning, is responsible for a variety of tasks in her position--a position she has held since joining the University in August 2001.
"I am responsible for recruitment and sabbaticals and all the HR paperwork," Kirchner said, "but I'm also part of the financial office, so I manage salary lines for everyone in the college.
"We are very externally funded and have a lot of grants, so I deal with salary and personnel issues on grants, and salary projections for the dean and associate dean and assistant dean."
Kirchner said she was touched by the outpouring of congratulations from colleagues.
"I have no idea why I was selected over other people at the University," Kirchner said. "I'm sure there are people who have been here far longer than I have and who deserve to be nominated more than I do, but it was very sweet.
"I came in Monday morning and besides the roses, there were balloons and a cake and a sign on the window that said 'Congratulations,'" Kirchner said.
Article by Becca Hutchinson
Photo by Tyler Jacobson, AS '06