American Physical Therapy Association honors 5 UD faculty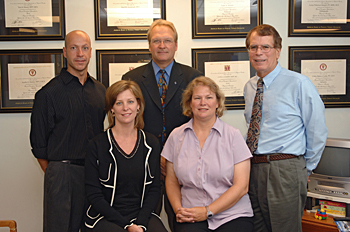 4:33 p.m., July 17, 2008--Five members of the faculty in UD's Department of Physical Therapy received major awards during the past year from the American Physical Therapy Association.
"I am pleased that each of these deserving individuals, who represent diverse areas of the physical therapy department, received national recognition. It reflects the breadth and depth of our department and the quality of our students," Stuart Binder-Macleod, chairperson of the department, said.
Joseph Lucca, associate professor, received two awards. He was given the Lucy Blair Award for contributions to the association as a whole and to component levels, which have been of exceptional value. He also was given the Friend of Private Practice Award by the Private Practice Section of the association for his groundbreaking work 20 years ago to pass the model law in Delaware for the establishment of direct access of individuals to physical therapy services.
Dr. Michael J. Axe, clinical professor, received the Jack C. Hughston Sports Physician Award by the Sports Physical Therapy Association for his "distinguished contribution to the specialty of sports physical therapy." The award is named for the late Dr. Hughston with whom Axe did his sports orthopedics fellowship in Georgia.
Cathy Ciolek, associate director of the Neurological and Older Adult Physical Therapy Clinic, received the Joan Mills Award of the Geriatrics Section of the American Physical Therapy Association, which is given to a member who has given outstanding service to the section.
Marty Fontenot, sports physical therapy resident, received the Mary Macmillan Doctoral Award for outstanding physical therapy students who have demonstrated superior capabilities and are nearing the completion of their studies.
Tara Jo Manal, assistant professor and director of clinical services, received the Signe Brunnstrom Award for Excellence in Clinical Teaching for contributions to physical therapy through teaching and as a role model in teaching, demonstrating expertise in at least one area of practice.
Article by Sue Moncure
Photo by Kathy Atkinson