New residence hall on Laird Campus nears completion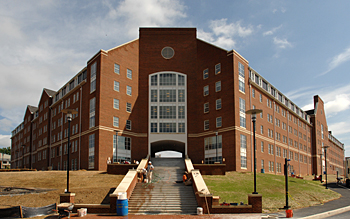 1:25 p.m., July 25, 2008--Summertime is construction time on campus, and several projects, large and small, are underway, according to Victor Costa, director of facilities, planning and construction.
The fourth new Georgian-style residence hall on Laird Campus will open this fall. The five-story facility can house 600 students in suites and single rooms. The building features a 4,000-square-foot fitness center and will have a recreation field outside the front door.
The addition of a fourth new residence hall on Laird Campus completes an expansion project that began with the construction of the 500-bed George Read Hall, which opened in 2005, followed by the opening in August 2006 of Thomas McKean Hall and James Smith Hall, which have 250 beds each. The four new residence halls on Laird Campus are connected with the Ray Street Complex by a new pedestrian footbridge. A 10-minute walk from the Trabant University Center, the new buildings also will be served by shuttle buses to other parts of the Newark campus.
In the Old College area, steam lines, serving all the buildings in the area, are being replaced.
Delaware Stadium will have a newly installed scoreboard in time for the first home football game with upgraded sound and video capability and work is being done to waterproof the west stands.
There also are two new fields with synthetic turf that can be used for football practice, men's and women's lacrosse, soccer, softball and baseball and for intramural and club sports.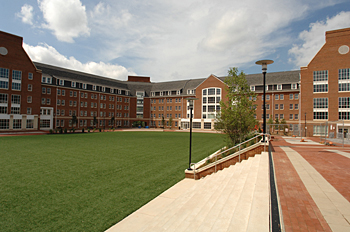 At Rullo Field, the synthetic turf is being replaced after 10 years.
At Harrington Beach, a recreation area behind the Perkins Student Center, field turf is being installed, funded in part by a gift from the Class of 2005.
In addition, the sports architecture firm, HOK Sport, is conducting an assessment of athletics and recreation facilities at UD with a report due in the fall.
Mark Golden, manager of facilities, building maintenance and structure, said the brick arches on The Green are being repointed and rebuilt, as needed. A new, retrofit roof is being placed on Gore Hall and steps and landings are being recaulked on Mitchell and Gore halls and Colburn Lab.
Article by Sue Moncure
Photos by Kathy F. Atkinson