IGERT offers rich undergrad solar energy research experience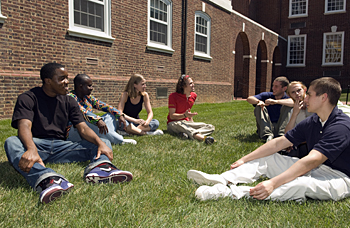 4:45 p.m., Aug. 11, 2008--The University of Delaware is hosting a select group of students involved in the second National Science Foundation-sponsored Integrative Graduate Education and Research Traineeship (IGERT) summer undergraduate experience.
Students have been introduced to new concepts involving hydrogen storage, fuel cells, solar policy and photovoltaics. Participants also are taking courses in ethics, effective oral communication skills and health and safety procedures during the 10-week session.
Academic disciplines represented during the program include economics, materials science, electrical and computer engineering and chemical engineering, Mo Bremner, program coordinator in the Department of Electrical and Computer Engineering, said.
The project is supported by UD's Institute of Energy Conversion (IEC) and the departments of economics, materials science and engineering, and electrical and computer engineering, Bremner said.
"The IGERT program expanded my horizon on the opportunities after college, by going on various tours to Air Liquide, BP Solar and Exxon Mobil," said Andy Damiani, a senior chemical engineering major at UD from Hockessin, Del. "The IGERT and IEC staff were very helpful and supportive throughout the research program."
Damiani has been conducting research in improving control of chemical bath deposition to allow measurement of optical transmission of the reaction solution to control the thickness of cadmium sulfide for CIGS solar cells.
Amir Reza Sedigh Haghighat, a senior mechanical engineering major at UD, originally from Iran, has been working in UD's Fuel Cell Research Laboratory, focusing on various issues in water management in hydrogen fuel cells.
"Doing research opened a whole new area of possibilities in front me," Sedigh Haghighat said. "This experience has influenced me so much that I would like to continue my education through graduate school and get a doctoral degree. I am very eager to help solving some of the greatest challenges of all: Survival of humankind and saving planet Earth by switching to clean and renewable energy sources."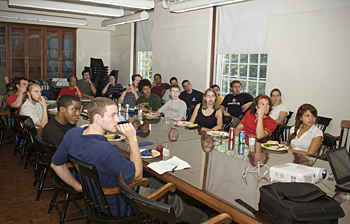 Ouloide Yannick Goue, a junior physics and mathematics major at Lincoln University in Pennsylvania, has been working on an n-type CdTe1-ySey polysulfide electrochemical cell (PEC), a device capable of absorbing sunlight to generate electricity as well as electrochemical storage of hydrogen.
"It has been fun exploring things like a scavenger and getting a new chunk of knowledge every day," Goue said. "The IGERT coordinators have given us great support and assistance and fostered friendship among the students. If you are looking for a summer of fun and learning, do not hesitate, think IGERT at the University of Delaware."
Grant Fisher, a senior mechanical engineering major at UD from Malvern, Pa., said the IGERT program has raised his awareness of various alternative energy options and helped him determine the academic path that he is going to pursue.
Melissa Day, a senior chemical engineering major at UD from Newark, Del., has been helping to develop thin films for solar hydrogen production with the goal of reducing the band gap of the titanium dioxide base material by doping it with carbon, thereby increasing its light sensitivity and thus its ability to split water into hydrogen and oxygen.
"I was really excited to research a topic that will hopefully result in cleaner, more sustainable technology for the future," said Day, who plans to continue her research through the academic year and subsequently pursue an undergraduate thesis. "I would like to pursue a career in some type of green engineering. It was a fun and great opportunity."
Article by Martin Mbugua
Photos by J Stewart, AS '09