Senior named one of 'Glamour' magazine's Top 10 College Women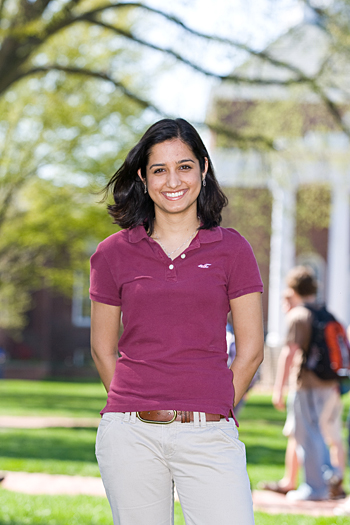 2:11 p.m., Aug. 12, 2008--Ritika Samant, a senior biological sciences major at UD, is among the Top 10 College Women in North America in
Glamour
magazine's annual back-to-school issue highlighting extraordinary co-eds from the United States and Canada.
The Hockessin, Del., native, who earlier this year was awarded a 2008-09 Goldwater Scholarship and spent the summer conducting independent research on cancer metastasis, will, in addition to appearing in Glamour's September issue, also receive $3,000 and a three-day all-expenses-paid trip to New York City.

Samant said she was encouraged to enter the contest last spring by Daniel Carson, chairperson of UD's biological sciences department, and Ulhas Naik, professor of biological sciences and chemical engineering at UD. She knew she was up against some pretty long odds, she said, because the rules stipulated only that entrants be junior college women living in either the United States or Canada.
But inspired by her recent selection as a Goldwater Scholar, she took the gamble, wrote the required "lengthy" personal statement, assembled her transcript and letters of recommendation, and set her sights high. A few weeks later, a one-and-a-half-hour phone interview landed her in the finalist pool; and in late May, her high hopes paid off.
"I think I got the recognition in part because of my undergraduate research experience and because I was named a Goldwater Scholar," Samant said. "But another thing that I spent a lot of time talking about in my interview was my involvement with UD's competitive dance team. Those were the two things I concentrated on--the research first, because that's what the issue profiles. But the dance team, as well, because that's the fun side of me."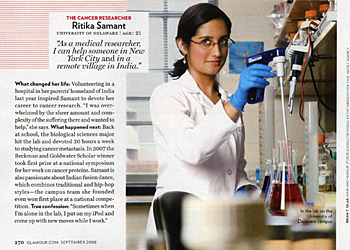 It's also the leadership and entrepreneurial side of Samant, as the team, Delaware Kamaal, was founded by her and two friends during her freshman year, and now competes nationally.
"We do classical Indian and hip hop, fusing Western and Eastern styles," said Samant, "and now that we've grown quite big, we compete both on and off campus, and placed first in two national competitions last spring."
Naik, who is Samant's adviser, said that he urged her to enter the contest because of her dedication to her own research and also because of her single-minded enthusiasm for any task put before her. Having worked with Samant for the past three summers in his lab, Naik added that Samant's scholarship and professionalism have held up over time.
"One of the special qualities of Ritika is that she is not only a very high achiever, but also a very outgoing, community-directed individual," Naik said. "With all her accomplishments and acumen, she was chosen for the Glamour award without reservation by the entire biological sciences department."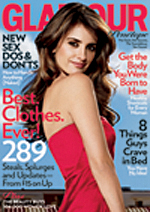 Samant, who is applying to an MD/PhD program, said that she ultimately plans to work at a teaching institution, where she can continue researching cancer metastasis; but she added that running a medical practice in which she could interact with patients also is a goal.
"I spent a lot of time volunteering in hospitals last year, and during Winter Session I went to India, where I worked at the Apollo Hospital in New Delhi," she said.
Her visits to the public wards there strengthened her resolve to practice medicine and the conditions of poverty she saw in India both last winter and on a previous trip she took in high school, heightened her desire to better the world, she added.
"Being a physician is a very respectable role," Samant said, "but I also believe you can help even more people through research than through just good medical care, because with research, even if you don't find a cure, you build a foundation for future scientists and your work affects people beyond just your immediate community. I try not to be too idealistic, but it really motivates me that what I do might influence many people over time."
Click here to read Samant's Glamour magazine profile online.
Article by Becca Hutchinson
Photo by Kevin Quinlan