Study finds split-belt treadmill helps stroke survivors' gait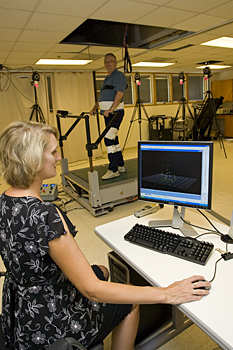 3:50 p.m., Sept. 25, 2007--An ongoing study using a split-belt treadmill at the University of Delaware shows that stroke survivors can learn to walk without a limp for a short while, and researchers now are working to determine if the duration of such a change can be prolonged in order to improve rehabilitation.
The study, which is funded by a five-year, $604,000 grant from the National Institutes of Health (NIH), is putting stroke survivors on the special treadmill for longer periods to see if the improvement can last longer, said Darcy Reisman, UD assistant professor of physical therapy.
"This study is very important because more than 700,000 people are affected by stroke every year, but the world of medicine has very little to offer people once they've had a stroke," Reisman said.
The study focuses on the fact that coordination between the legs can be influenced by the treadmill and it is hoped that by capitalizing on this through physical therapy, the person can regain a more stable walking pattern, Reisman said.
Reisman, who is conducting the research in collaboration with Amy Bastian, director of the Motion Analysis Laboratory at the Kennedy Krieger Institute in Baltimore, said the study at UD is using a new, specially designed split-belt treadmill that not only runs each belt independently at variable speeds while studying the movement of the legs with a motion capture system, but also measures the force with which the person is stepping on the belts.
"The preliminary results are very positive," Reisman said. "This is the first study that has shown that we can influence asymmetry in post-stroke walking. That leads us to believe that with the right intervention, people can improve over time.
"Until now there has been no study that has shown that there is an intervention that can help people become symmetrical in their walking. This starts to lead us down a path where we can improve rehabilitation and help people regain the highest level of walking that they can," Reisman said.
Reisman and Bastian have published results from the first study in an article in the journal Brain.
Reisman is conducting the study at UD with Christine Malecka, a doctoral candidate in biomechanics and movement science; Amy Novotny, a doctoral candidate in physical therapy; Heather Takeguchi, a doctoral candidate in physical therapy; and Jennifer Breithaupt, a junior biological sciences major.
"We know that walking on any treadmill is different from walking over ground. People who had a stroke walk a little bit differently on a treadmill than they do walking on the ground, so we are studying the transfer of that walking to the ground," Reisman said. "What we found so far is that people who had a stroke tend to transfer walking on the treadmill to the ground better than other people."
"When they come in one time it helps them, but we know that it helps them only temporarily. We need to find out if coming in three or four times a week over several weeks helps them walk better longer," Reisman said.
The goal of the ongoing research is to complete a feasibility study and seek further additional grant funding to expand the intervention, possibly to multiple sites, Reisman said.
Reisman received her bachelor's degree in health science and a master's degree in physical therapy from the College of St. Scholastica in Duluth, Minn., in 1991 and 1993, respectively. She earned her doctorate in biomechanics and movement science at UD in 2003. She joined the UD faculty in 2005 after two years of postdoctoral research training at the Kennedy Krieger Institute with Bastian as her mentor.
Article by Martin Mbugua
Photo by Kevin Quinlan