Three new named professors join UD faculty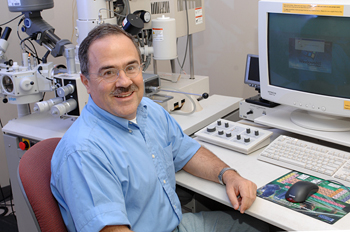 3:32 p.m., Sept. 20, 2007--Three new named professors have joined the UD faculty this fall, Provost Dan Rich has announced. They are Eleftherios T. Papoutsakis, Eugene du Pont Chair of Chemical Engineering and Delaware Biotechnology Institute (DBI) Faculty Fellow; Alfinio Flores, Hollowell Professor of Mathematics Education; and Kelvin Lee, Gore Professor of Chemical Engineering and DBI Faculty Fellow.
"We are pleased to welcome these distinguished senior scholars, who have already had successful academic careers at other universities and now will contribute their expertise to enhance the wide range of accomplishments of the University of Delaware faculty," Rich said.
Eleftherios T. Papoutsakis
Papoutsakis comes to UD from Northwestern University, where he served as Walter P. Murphy Professor of Chemical and Biological Engineering and also was a member of the Lurie Comprehensive Cancer Center of the Northwestern University Medical School. Before that, he was a member of the Rice University faculty.
His research focuses on areas of systems biology, metabolic engineering, experimental and computational genomics with applications in stem-cell biology and prokaryotic biology for the production of biofuels and chemicals from biomass.
A fellow of the American Academy of Microbiology and the American Association for the Advancement of Science and a founding fellow of the American Institute of Medical and Biological Engineers, Papoutsakis also has received several awards, including the Amgen Biochemical Engineering Award and the Merck Cell Culture Engineering Award, both from the from Engineering Conferences International; the Alpha Chi Sigma Award and the Food, Pharmaceutical and Bioengineering Award, both from the American Institute of Chemical Engineers; and the Marvin Johnson Award and the Van Lanen Award, both from the Biochemical Technology Division of the American Chemical Society.
Papoutsakis has published extensively in his field and served as editor-in-chief of Biotechnology and Bioengineering. He also holds three patents.
A graduate of the National Technical University of Athens, Papoutsakis received his master's and doctoral degrees from Purdue University.
Alfinio Flores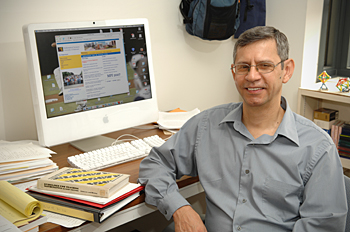 Before coming to UD, Flores was a professor at Arizona State University. His interests are mathematics education, computers and calculators in mathematics teaching and learning, curricular development, and pre- and in-service preparation of teachers of mathematics.
He is the author of Geometry for Parents in English and Spanish and coauthor of Geometry, Principles and Standards for School Mathematics and Libro para el Maestro, Primer Grado and has written more than 100 articles and book chapters. Flores has served in editorial positions and on the boards of several publications on mathematical education. He also has directed and been involved in numerous math education projects and served as a professional consultant in the field.
Flores received his bachelor's and master's degrees from the National University of Mexico and his doctorate in mathematics education from Ohio State University.
Kelvin Lee
Coming to UD from Cornell University, Lee served as the Samuel C. and Nancy M. Fleming Professor of Molecular and Cell Biology in the School of Chemical and Bimolecular Engineering, and as director of the Institute for Biotechnology and Life Science Technologies and also of the New York State Center for Life Science Enterprise.
His research focuses on gene-expression-monitoring tools, such as mass spectrometry, for measuring protein expression relevant to the pharmaceutical and chemical industries and to human health, including studies on diagnosing Alzheimer's disease.
His research has received funding from the National Science Foundation, the National Institute of Mental Health and others.
He has published extensively in his field and has a patent issued to California Institute of Technology and three other patents filed or pending.
Among his honors, Lee has served as Distinguished Professor of the New York State Office of Science, Technology and Academic Research; received the Cornell provost's Ronay and Richard Menschel Award for Distinguished Scholarship; won a National Science Foundation CAREER award; was named by the MIT Technology Review as one of the top 100 innovators in the world in business and technology; and has received teaching and other awards. He was an invited participant in the National Academy of Engineering Frontiers of Engineering Symposium in 2003.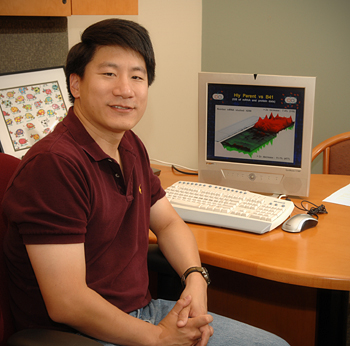 A graduate of Princeton University, Lee received his master's and doctoral degrees from the California Institute of Technology and also studied at the Institute of Biotechnology of the Swiss Federal Institute of Technology.
Professorship namesakes
Eugene du Pont (1840-1902), a native Delawarean, served as fourth president of the DuPont Co. from 1889-1902. The Eugene du Pont Distinguished Memorial Scholars program, funded by an endowment provided by the Unidel Foundation, for highly qualified, incoming freshmen also is named in his honor.
Kathleen and David Hollowell contributed the 100th endowed professorship at UD in 2004. They came to UD in 1988. Kathleen Hollowell recently retired as director of the Mathematics and Science Education Resource Center at UD and David Hollowell, executive vice president and treasurer, has announced his retirement at the end of 2007.
The Gore family, including the late Genevieve Gore, her son Robert W. Gore EG '59, chairman of W. L. Gore and Associates and vice chairman of the UD Board of Trustees, and his wife Sarah, '76M, are major benefactors of the University, funding Gore Hall and contributing to scholarship and fellowship programs at UD.
Article by Sue Moncure
Photos by Kathy F. Atkinson