Art history prof named Mellon fellow at Cambridge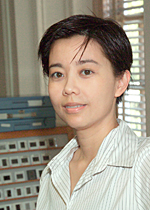 5:14 p.m., Sept. 20, 2007--Vimalin Rujivacharakul, assistant professor of art history, has received an Andrew J. Mellon Foundation Fellowship to be scholar in residence at the Needham Research Institute of the University of Cambridge, beginning in January.
"This is a highly competitive fellowship, and I feel very honored and privileged to have been selected," Rujivacharakul said.
Her research focuses on modern architectural history, with emphases on modern historiography and cross-cultural studies. "Chinese architectural historiography plays a major role in my research compass. The Mellon fellowship and residency at the Needham Research Institute will provide an exciting and unique opportunity for me to focus on China and complete my book manuscript," Rujivacharakul said.
The institute's founder, Dr. Joseph Needham (1905-1995), was originally a biochemist at Cambridge, but he is best known for his studies of China during and after World War II, when there was little contact between China and the West. During World War II, he established a Sino-British Science Cooperation Office in China and began in-depth studies of Chinese accomplishments in science and technology.
Needham was the first author and founder of the continuing Science and Civilisation in China series, which is published by Cambridge University Press. During his lifetime, he collected many important sources and data for his project. After the war, many documents in China were destroyed or lost, Rujivacharakul said, hence the Needham archives are an invaluable source of historical information.
"Many of those who in the past have received Andrew W. Mellon fellowships to Needham are senior scholars who study either ancient Chinese history or the history of sciences. I am one of the first architectural historians to receive this fellowship, so I will be looking at the archives from another point of view," Rujivacharakul said.
Rujivacharakul received her doctorate in architectural history from the University of California at Berkeley and also holds degrees in architecture and architectural theory from Harvard University, the University of Michigan at Ann Arbor and Chulalongkorn University in Thailand. In 2004-05 she was a Getty fellow in residence at the Getty Research Institute, where she completed her dissertation. She also was awarded the Scott Opler Fellowship for Emerging Scholars from the Society of Architectural Historians in 2005.
In 2006, Rujivacharakul curated an exhibition, "Shanghai Through a Century of Visual Images," for the Center for Chinese studies at UC Berkeley, which was co-funded by the Université de Lyon in France. During the same semester, she organized an interdisciplinary conference, "Collecting 'China': Objects, Materiality and Multicultural Collectors," for UD and the Winterthur Museum and Country Estate. She is the editor of the book from the conference, which is currently under review at Duke University Press. Currently, she is revising The Rise of Chinese Architecture, which grew out of her doctoral dissertation.
In addition, she leads the international Yingzao Huikan Translation Project, with colleagues from Tsinghua University, Beijing, translating a series of Zhongguo Yingzao Huikan (Bulletin for the Society for Research in Chinese Architecture) from Chinese into English. The first phase of the project is scheduled for completion in January.
Article by Sue Moncure