Coast Day essay contest deadline is Sept. 22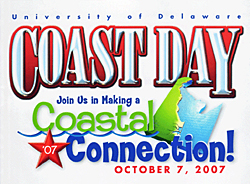 3:40 p.m., Sept. 10, 2007--Entries for the 2007 Coast Day essay contest, which is open to any fifth-grader in Delaware, are being accepted until Saturday, Sept. 22. This year's contest a 250-word essay about "The Journey of a Drop of Water: Your Watershed Connection to the Coast."
Contest winners will be eligible for prizes including a savings bond and recognition at this year's Coast Day, which will be held from 11 a.m.-5 p.m at the University of Delaware's Hugh R. Sharp Campus in Lewes on Sunday, Oct. 7.
The top three winning essayists will receive U.S. savings bonds--a $100 bond for first prize, a $75 bond for second prize and a $50 bond for third prize. The teachers of the winning students will receive resource materials for use in their classrooms. The winners and their teachers also will be recognized at Coast Day and through news releases to the media.
"The kids just love it," Cindy Cunningham, who teaches fifth grade at Shields Elementary School in Lewes, Del., said of the contest, which is designed to spark youngsters' interest in the ocean while teaching them how to research a topic with the help of the library and other resources and use that information to write an essay in their own words. "It gives you a new, fun topic."
Cunningham explained that because fifth-graders learn about information gathering and organization, as well as coastal ecology and preservation as part of the curriculum, the contest's writing prompts are a great way to start the year. Her students have entered the contest every year since its inception in 1983.
Coast Day, an annual educational festival and showcase for Delaware's rich marine resources, is held every year on the first Sunday in October at the University of Delaware's Hugh R. Sharp Campus in Lewes. Sponsored by UD's College of Marine and Earth Studies and the Delaware Sea Grant College Program, Coast Day attracts more than 10,000 visitors and has won state and national awards for its efforts to promote environmental education and stewardship. Coast Day is free; parking is $2.
The essays, which will be considered only if they are postmarked by Sept. 22, should be sent to:
Coast Day Essay Contest
College of Marine and Earth Studies
Sea Grant College Program
700 Pilottown Road
Lewes, DE 19958-1298
For a complete list of Coast Day Essay Contest rules and to learn more about Coast Day, visit [www.ocean.udel.edu/coastday].
For more information, contact the Sea Grant Marine Advisory Service at (302) 645-4346 or Rita Baty at [rbaty@udel.edu].