UD's Ogunnaike receives ISA Eckman Award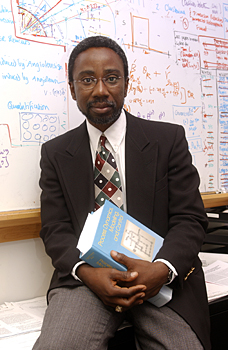 4:18 p.m., Sept. 7, 2007--Babatunde A. Ogunnaike, the William L. Friend Professor of Chemical Engineering at the University of Delaware, will be honored with ISA's Donald P. Eckman Education Award at the organization's gala to be held Oct. 1 in Houston.
ISA, based in Research Triangle Park in North Carolina, is a leading international organization that sets standards for automation and helps professionals solve difficult technical problems.
A spokesperson for the organization said Ogunnaike is receiving the award for his outstanding contributions to education and training in the science, engineering and technology of instrumentation, systems and automation.
His contributions in education and training in instrumentation and process control through books, book chapters, papers, college courses, industry short courses and workshops over the past 25 years have had a profound impact on the development of thousands of engineers and industrial practitioners, the ISA spokesperson said.
Ogunnaike's success as a teacher and a trainer is a result of his extensive education, plus years of experience applying the methods he teaches through research and engineering positions at DuPont and the Shell Development Company. He received a bachelor's degree from the University of Lagos in Nigeria in 1976, and a master's and doctorate from the University of Wisconsin Madison in 1981.
Ogunnaike has developed and taught more than 17 courses, including several graduate courses, at UD, where he also serves as a professor in the Center for Systems Biology at the Delaware Biotechnology Institute. He developed and taught many short courses on process dynamics and control at DuPont and at the annual DuPont TECHCON.
Ogunnaike has written numerous books and more than 75 papers and book chapters, and served as associate editor of the Institute of Electrical and Electronics Engineers' IEEE Transactions on Control Systems Technology and the American Chemical Society's Industrial & Engineering Chemistry Research.
He has delivered more than 90 seminars at universities, conferences, symposia and companies and his textbooks have been used to educate and train thousands of engineers in instrumentation, systems and control at more than 29 universities.
"It's more important today than ever before that we honor the people who make a difference in our industry," Steve Huffman, ISA president, said. "The gala gives us an opportunity to recognize the excellence of automation professionals from around the world."
Photo by Kathy F. Atkinson