Anna Papafragou selected for Young Scholars Award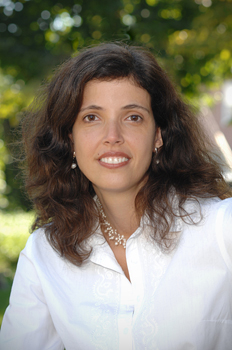 4:16 p.m., Oct. 23, 2007--UD's Francis Alison Society has announced that Anna Papafragou, assistant professor of psychology with a secondary appointment in linguistics, has received its Young Scholars Award for 2007.
The Francis Alison Young Scholars Award, which is highly competitive, is given to a tenure-track assistant professor at the University who has demonstrated outstanding research and academic teaching excellence. Gerard J. Mangone, University Research Professor and secretary of the Alison Society, said, "The committee of judges was enormously impressed by the achievements of 13 nominees from as many departments but finally settled on the outstanding record of Dr. Papafragou." The award consists of a plaque and check.
"I am very happy and honored to receive the Alison Young Scholars Award," Papafragou said. "My first three years at UD have been very rewarding, and I am fortunate to have colleagues who truly support junior faculty. I am extremely pleased with this recognition of my research and teaching."
Papafragou's research field is the experimental study of language,
specifically its acquisition and processing. One aspect of her work concerns the relationship between linguistic and conceptual representations in both children and adults: How is language related to thought? Does learning a language change the way you think? Do people who speak different languages think differently?
Papafragou received her bachelor's degree in linguistics from the
University of Athens and her doctorate in linguistics from University College London. She spent a year as a postdoctoral researcher at
the University of California at Berkeley, followed by postdoctoral work
at the Institute for Research in Cognitive Science at the University of
Pennsylvania, initially holding a prestigious Institute for Research in Cognitive Science fellowship and then a postdoctoral grant from the National Institutes of Health. She joined the UD faculty in 2004.
At the end of her postdoctoral training, Papafragou had published 26
single-author and seven first-author papers, and in her three years at
Delaware, she has published 19 articles in refereed journals, conference
proceedings and other peer-reviewed papers. Her doctoral dissertation has appeared as a book, entitled Modality: Issues in the Semantics-Pragmatics Interface.
Papafragou has received grants from four different UD funding sources and the National Science Foundation (NFS), valued at approximately half a million dollars. Her proposal was co-funded by two different NFS panels--Perception, Action & Cognition, and Linguistics--and was one of the largest grants awarded by either panel in the last two years.
Article by Sue Moncure
Photo by Kathy F. Atkinson