Regina McKenna honored as HR Liaison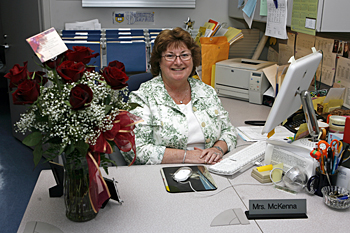 3:56 p.m., Oct. 11, 2007--Regina A. McKenna, The College School's education department office supervisor, has been named HR Liaison of the third quarter of 2007--an honor given four times a year for exemplary members of UD's human resources team.
"It's the greatest honor in the world to be recognized by your peers. That kind of appreciation makes you happy to get up every morning," McKenna said.
McKenna, who has served as office supervisor since before The College School moved to the University of Delaware in 1988, was presented with a bouquet of flowers from the Office of Human Resources. "It was the most beautiful bouquet of roses I've ever seen," she said. Besides the bouquet, McKenna will receive a certificate at an upcoming human resources breakfast.
The College School accepts students with learning or behavioral problems. It provides small class sizes and an individualized, highly structured program of instruction.
McKenna said her days are filled with variety and multi-tasking is essential. "I'm the front desk person, the first person you see when you walk in." She also keeps records required by the state, does the billing for the school, takes attendance and acts as the Office of Human Resources liaison for seven staff employees.
Photo by Sarah Simon