Coast Day draws 1000s to Lewes campus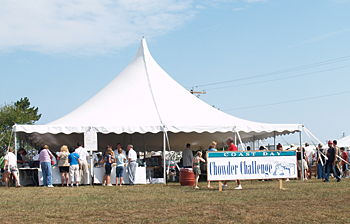 Click here for photo album.
4:43 p.m., Oct. 12, 2007--On an unseasonably warm afternoon at the University of Delaware's Hugh R. Sharp Campus on Sunday, Oct. 7, a crowd of about 30 people, mostly children, squeezed under an exhibit tent. A volunteer standing among the onlookers placed a small crab into each of two long channels of water. As the crustaceans scuttled across their respective racetracks, the kids jumped up and down screaming for the critter they chose to win.
Shawn Evans, whose daughter picked the heat's victor, Neville, explained why he and so many other families make it a tradition to attend Coast Day, which showcases the state's ocean and coastal resources, as well as the work of College of Marine and Earth Studies (CMES) researchers and their partners. Between 9,000 and 10,000 people attended this year's event, held in Lewes, Del.
"We live close to the beach and she likes the water," he said as his daughter admired her prize, a toy car. "I like the education part for her because she's learning a lot."
Similar scenes of children and parents connecting with coastal wildlife and habitats happened throughout the 31st annual Coast Day. In Cannon Lab, next to the crab races, a display taught visitors how to protect their watershed; across the street, touch tanks let people pet animals such as sand sharks and horseshoe crabs.
The day kicked off with a special ceremony in which Delaware Governor Ruth Ann Minner, UD President Patrick Harker and CMES Dean and Sea Grant Director Nancy Targett marked the beginning of the event and this year's theme, "Making the Coastal Connection."
Harker applauded Coast Day as a Delaware tradition that encourages learning and cooperation. Across the campus, organizations whose goals complement the work of CMES and Sea Grant faculty and staff, such as the Delaware Department of Natural Resources and the National Oceanic and Atmospheric Administration, presented exhibits.
"What you see here is a partnership," Harker said. "You see a great example of the University with partnerships with people in the state. It's that partnership that makes us strong and helps us able to accomplish things we just can't accomplish alone."
Minner, who acknowledged the contributions of CMES researchers whose work has included studying wave movement and the bottom of Delaware Bay, explained that the event attracts visitors from as far as California.
"There are people from across this country this week because they want to come to the marine labs and see what's happening," she said. "Coast Day represents the best of the best in events to teach and to share our coast together."
Also during the special ceremony, Targett honored the 2007 Governor's Marine and Aquatic Science Teacher of the Year, LuLu Ross Elementary School Teacher Donald Ott, and announced the winners of the annual Fifth-Grade Essay Contest.
Tuathla Hefferan from Richard Shields Elementary School took first place in the essay competition in which students wrote about the journey a drop of water makes as it travels to the coast. She wrote about Rachel Raindrop, who began in a pond and made her way to a stream where she met Professor Plankton.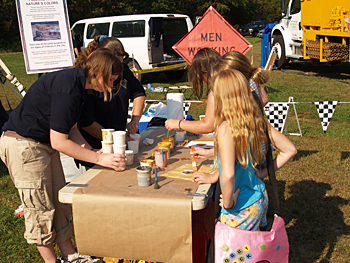 "He told her raindrops are a big part of the world because they help everyone live," she explained.
Other events included two cooking competitions. Darla Koff of Frederica, Del., won first place in the 18th annual Crab Cake Cook-Off. The competition's three judges praised her recipe, "Cornmeal Crab Cakes," for the sweetness the cornmeal added to the crab without overpowering it.
"I don't like filler. I like a crab cake to taste like crab," she explained. "One day I had a box of cornmeal, and I just tried it."
The First State Chefs Association took the Chowder Challenge over the Delmarva Chefs and Cooks Association. In this event, visitors sampled a 2-ounce portion of each association's chowder and then voted for their favorite. Heather Tambone contributed the recipe for the winning association.
"I have a feeling it was the sausage that gave it a kick," said Doris Hicks, seafood specialist with the Sea Grant Marine Advisory Service and organizer of all the seafood-related activities at Coast Day. "It seems like people like the New England style, when it's nice and creamy and you can taste the clams and it has a little zip but not too much."
Additional Coast Day attractions, such as one that asked children to sign a safe boating pledge in exchange for a life jacket, had kids running around the event in the bright red lifesavers or painting pictures of flowers and trees using Delaware rocks and minerals. Lectures held indoors on topics such as birding on Delmarva and wind power captured the attention of many attendees, especially those looking for a short break from the day's powerful sun.
For 85-year-old Mildred Weer, who worked as a librarian at the college for many years, and many attendees, Coast Day represents an opportunity to connect with the coast, as well as family. Counting her daughter, granddaughter and great-grandson, four generations of Weer's family attended the daylong event.
"With the food, the boats, the crab cakes, everything," said her daughter, Cathy Crumlish of Wilmington, "it's a nice, fun family atmosphere."
To learn more about the UD's College of Marine and Earth Studies and the Delaware Sea Grant College Program, visit [www.ocean.udel.edu].
Article by Elizabeth Boyle
Photos by Tammy Beeson and Kathy F. Atkinson