Vice provost receives Delaware Hispanic of the Year award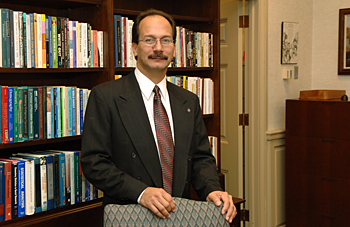 4:55 p.m., Oct. 24, 2007--Havidán Rodríguez, vice provost for academic affairs and international programs and professor of sociology and criminal justice, has received the Professional Achievement Award and was recognized as one of the Hispanics of the Year in Delaware by the Latin American Community Center, Oct. 5, at its 2007 Grand Ball in Wilmington.
Rodríguez received a plaque citing him for his "determination and persistence against all odds to reach professional success: a trail blazer for all inspiring us to fulfill our dreams."
He also was written up in El Sol Latino newspaper and El Tiempo Hispano, a statewide bilingual newspaper, which covered the award ceremony with articles and photographs. The article in El Tiempo Hispano reviewed his career, calling Rodríguez a "sociologist with training in demography and statistics" who joined the University in 2003 as "director of its prestigious Disaster Research Center" with research funding from the National Science Foundation, the Ford Foundation, the National Institute of Mental Health, the Federal Emergency Management Agency and the University of Puerto Rico Sea Grant Program. The article pointed out his current research focuses on "population demographics, natural hazards and the vulnerability of coastal regions of Puerto Rico" and that he serves as a member of the social science research team of the Mid-America Earthquake Center.
Besides an article about his Professional Achievement Award, El Tiempo Hispano published a letter from Voices Without Borders, where he serves on the board of directors.
A faith-based, grassroots, nonprofit organization, Voices Without Borders is committed to institutional change and social justice to improve the quality of life of Latinos in Delaware by building relationships through community organizing, advocacy and education. The letter said Voices Without Borders is "extremely lucky to have those talented and socially committed individuals providing voice to those who do not have a voice within the Hispanic community." It cited Rodríguez for "not only his proven talent but also his objective analysis capacity and a genuine desire to connect the Hispanic community at all levels," adding, "We realize that organizational strength comes indeed directly from the talents of its members."
Article by Sue Moncure
Photo by Kathy F. Atkinson