Harrington Theatre presents 'Company'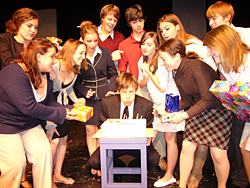 8:26 a.m., Oct. 10, 2007--The Harrington Theatre Arts Company has announced its first production of the season, the Stephen Sondheim musical comedy
Company
.
Recently revived on Broadway, Company follows the story of Robert, a bachelor whose 35th birthday party provides the occasion to bring together all of his friends. It seems everyone but Robert is married or getting married, and they are all eager for their single friend to follow in their footsteps. Robert, on the other hand, isn't quite ready to take the plunge. He's sure that "Someone Is Waiting," the perfect girl just for him, and until he finds her, he is content to amuse himself with the numerous women he encounters.
Meanwhile, Robert has the opportunity to observe the lives of all of his married friends, and what he sees does not exactly fill him with encouragement. They fight, plan affairs, talk of divorce, and take refuge in marijuana and alcohol. It's enough to make Robert question whether he ever wants to join the ranks of the married. In the end, however, in spite of all his friends' failings, he comes to the conclusion that there is no point in "Being Alive" unless one has someone to share it with.
Directors Katie McMaster and Angelina Meehan, both juniors at UD, bring this hilariously heartbreaking musical to life on the University of Delaware stage. The cast features 14 talented students, and there are dozens of UD students working behind the scenes.
Company will be performed in the Pearson Hall auditorium on Academy Street at 8 p.m., Thursday and Friday, Oct. 11-12, and again on Thursday and Friday, Oct. 18-19. There will be 2 p.m. shows on Sunday, Oct. 14, and Saturday, Oct. 20. Tickets are $5 for students and seniors and $8 for the general public and can be purchased at the door.
If you have any questions or would like more information about the production or the Harrington Theatre Arts Company, call (732) 896-7075 or send e-mail to [czadek@udel.edu].