Taking the pulse of the planet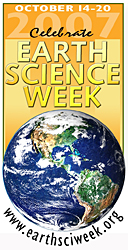 4:06 p.m., Oct. 16, 2007--Like many Americans, Livia Montone grew up taking family vacations to national parks. But for the University of Delaware senior, memories of Yellowstone's geysers and the Teton's jagged peaks didn't fade at the end of each summer. They stuck with her, eventually guiding her most important academic decisions.
"I have a deep love of the national parks," said the geology major, who was so excited about her family's most recent trip that she made a brochure for them summarizing the geologic history of the area surrounding Glacier National Park. "There are so many geologically active things you can see and visit."
Montone and the faculty, staff and students in the College of Marine and Earth Studies hope enthusiasm for geology and other sciences spreads during Earth Science Week Oct. 14-20.
Sponsored by the American Geological Institute, Earth Science Week is meant to help people gain a better understanding of and appreciation for earth sciences and to encourage stewardship of the earth. This year's theme, "The Pulse of Earth Science," urges those inside and outside the field to think about its status in education and society.
"The thing to me that's so exciting [about Earth Science Week] is that it's a good way to gain appreciation of how earth science affects people's daily lives," said John Madsen, associate professor of geological science. "It's all around you."
Earth sciences are those related to planet Earth, including geology, geography and meteorology. Earth scientists participate in a vast range of activities from which people around the globe benefit every day, from the monitoring of earthquakes and volcanoes to maintaining water supplies to conserving soils for agricultural use.
Madsen explained that no matter what area of scientific discovery someone is interested in--whether it's studying glaciers in Antarctica or finding out how hurricanes work--they understand one very important aspect about earth science: it doesn't rely on one exclusive type of science.
"If you want to solve global problems or environmental problems, you have to integrate all the sciences, and that's earth science," he said, citing the example that to understand climate change you have to know about the carbon cycle, plant life, transfer of energy and other systems and processes that are taught in various science classes.
For anyone interested in environmental changes, studying earth sciences can offer a bright future, he added. Careers vary widely to include locating sites for wind energy development or researching tidal forces and ocean currents for energy use.
"It's a science that's really changing right now as we look a lot more at climate change," he said. "There are careers around all those different energy sources that are out there."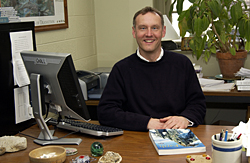 Madsen's own work involves research that uses sonar to map the floor of the Delaware Bay and projects that focus on teachers' approaches toward science education at K-8, as well as high-school, levels. He also makes time to visit third-grade classrooms in the area to help them learn about rocks and minerals.
For Montone, the next step in her career likely will be graduate school for paleo-oceanography, the study of the ocean's history. She said she thinks the experiences she's gained at UD will help launch the next phase of her academic life.
Multiple internships, including one this summer as a research assistant preparing samples of microfossils with Katharina Billups, associate professor of oceanography, have cemented a desire to work with fossils from the ocean. Additionally, influential classes have included an earth systems science class ("That was the first time I really learned about the planet from as far back as we know to present day," she said) and an introduction to research class in which students reassemble a dinosaur fossil.
Having worked at museums and as president of the UD Geology Club, she's had the opportunity to share her knowledge with others, like when the club provided a kids activity at the college's annual Coast Day event.
Whenever fellow students or school kids seek advice on geology, Montone leans on the inquisitive nature that first helped spark her love for the national parks.
"To do science," she said, "you don't have to know all the answers, but you have to be curious."
To learn more about Earth Science Week, visit [www.earthsciweek.org]. For more about the College of Marine and Earth Studies, visit [www.ocean.udel.edu].
Article by Elizabeth Boyle