Prof receives top oceanography award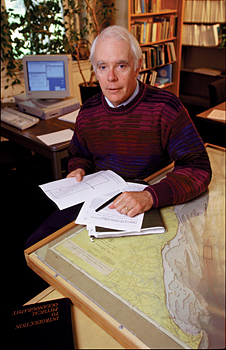 2:43 p.m., Oct. 25, 2007--Rich Garvine is not only a leader in the field of coastal physical oceanography, he helped found it. The University of Delaware scientist, who has carried that same pioneering spirit throughout his 37-year career, is being recognized for his extensive contributions to his discipline.
Garvine, the Maxwell P. and Mildred H. Harrington Professor of Marine Studies, has been named the 2007 Bostwick H. Ketchum Award recipient from the Woods Hole Oceanographic Institution (WHOI) in Massachusetts. The award, which is presented only every two to four years, goes to scientists worldwide who demonstrate an innovative approach to coastal research, leadership in the scientific community and who provide a link between coastal research and societal issues.
The Ketchum Award is presented by WHOI's Coastal Ocean Institute and has been given 13 times since 1984. Recipients have come from various disciplines, from geology to biology to chemistry, but all have had one thing in common: They're the top scientists in their field.
"That's the best part about it--the quality of the company I'll be keeping," said Garvine, who will give a lecture and accept a medal along with $5,000 at a ceremony in early 2008.
Garvine's nominators for the award said he was an obvious choice to join the ranks of the respected Ketchum Award winners, according to Don Anderson, director of the Coastal Ocean Institute. One reason? He has been a pioneer and international authority in his field.
While most physical oceanographers in the early 1970s studied the blue waters of the deep ocean, Garvine and only a small handful of his peers focused on coastal waters.
"Very early in his career he cut out a niche and was very good at it," said Chuck Epifanio, associate dean of the College of Marine and Earth Studies and professor of marine biosciences. "As coastal oceanography became more central to general oceanography issues, he was the guy."
Garvine's research on coastal fronts and river plumes--the fresh water that flows out of rivers and estuaries and remains on the ocean's surface because it is less saline and therefore lighter than the ocean water--has made him one of the foremost scientists in his field. With more than 65 articles in refereed literature, he has put his stamp on the discipline of oceanography. Practical applications of his work have included helping researchers follow surface currents to track pollutants such as oil and other wastes that float on them.
Today, some of Garvine's research involves working with policy scientists to analyze offshore wind as an alternative energy source. And his work with Epifanio, a biologist, following the movement of blue crab larvae on the surface currents in the coastal waters near the Delaware Bay, was practically unheard of when their work together began.
"Physicists and biologists did not talk to each other," Epifanio said about the days in the late 1970s before "interdisciplinary" became a popular word in academe. Epifanio added that he credits Garvine for his willingness to work with him on the project, which created a body of work that has been of great value to blue crab fisheries managers in the Mid-Atlantic region.
Garvine, who in 1985 received the UD Excellence in Teaching Award, passed on the practice of interdisciplinary collaborations to his students. For the Princeton University graduate who began his career at UD in 1977, making time for them has always been a given.
"It's a natural because the students are involved in the projects. There's a lot of mutual benefit," he said. "As a result, a lot of them got to be very good researchers."
And now, his former students--along with his peers and collaborators--are recognizing him for his career-long leadership and innovation.
"He is a tremendous adviser, tremendous researcher, and one of the most generous people in the field of oceanography," said WHOI scientist Glen Gawarkiewicz, who worked under Garvine as a doctoral student and nominated him for the medal. "He's just incredibly highly thought of in the coastal world, and I'm so happy he's receiving this award."
For more about UD's College of Marine and Earth Studies, visit [www.ocean.udel.edu].
Article by Elizabeth Boyle
Photo by Kathy F. Atkinson