Cooperation seen key to U.S. competitiveness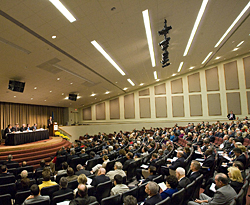 5:19 p.m., Nov. 5, 2007--Cooperation and partnerships involving business, education and government are key to maintaining economic competitiveness in Delaware and throughout the United States.
That was the message of panelists who responded to keynote speaker Chad Holliday, chairman and CEO of the DuPont Co., at a conference held Friday, Nov. 2, at the University of Delaware. The conference on the challenges and opportunities of creating knowledge-based partnerships, opened with Holliday's speech in which he summarized findings of the National Academies' report, Rising Above the Gathering Storm: Energizing and Employing America for a Brighter Economic Future.
The five panel members agreed with Holliday and the report, particularly emphasizing the importance of better educating American children, beginning in early childhood and extending through college and graduate school.
U.S. Rep. Michael Castle of Delaware told the audience that elevating educational standards and assessment is key, as well as encouraging students to look ahead to careers that will be vital in the economy of the future.
"These issues are of tremendous importance," Castle said. "The bottom line is that we need to educate every child to the very best of our ability." By ensuring that children reach their full potential, he added, the public education system plays an essential role in the U.S. maintaining its competitive edge in the world.
Panelist Skip Schoenhals, chairman of Wilmington Savings Fund Society and the Delaware Public Policy Institute, agreed with the emphasis on education and discussed Vision 2015, a group he chairs that has developed proposals to make Delaware's education system the best in the world by 2015.
Calling that timetable "an audacious goal," Schoenhals said the state has the ability to reallocate the money it spends on education and implement changes to significantly improve student achievement. The most important factor in higher achievement, he said, is teacher quality and the second is the quality of leadership within a school.
Delaware, he said, has "islands of excellence" in its school system but needs to do more.
"There are some very good public schools in the state of Delaware, both traditional and charter," Schoenhals said. "We do not, however, have a system of excellence in public education."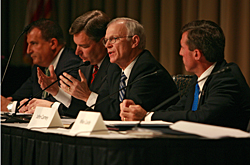 Delaware Lt. Gov. John Carney also spoke about the need to improve education, and he added that the state must more broadly focus on science and technology. He said he's often asked what "the next big thing" in Delaware's economy will be, referring to such once-dominant industries as chemicals, auto manufacturing and credit cards.
The future is probably not going to rely on a single big industry, Carney said.
"But I'm confident that it's a science- and technology-based economy," he said. "Delaware is uniquely positioned to take advantage of such an economy and to forge new ground." He cited leadership, an educated work force, a history of innovation and a variety of partnerships such as the Delaware Biotechnology Institute at UD, as ways in which the state is poised "to take tremendous steps forward in science and technology innovation."
Alan Levin, chairman of the Delaware State Chamber of Commerce, also spoke about the ways in which Delaware can maintain a robust economy by emphasizing science and technology. He noted that the field of biotechnology has many facets and that Delaware-despite its size and agility that gives it a competitive advantage-is not going to be able to excel in all of them.
"Today, we need to accentuate that competitive advantage more than we ever have before," Levin said. "Delaware needs to find its niche. Delaware needs to find what Delaware does best."
He offered the opinion that the state should focus on biotechnology in the areas of chemicals and agriculture, where many industries and individuals already possess expertise.
Levin also urged policy makers to remember the "thousands of small businesses" that are contributing every day to the economy and to innovation.
Entrepreneurship is vital, agreed panelist Ernie Dianastasis, managing director of CAI Inc. and chairman of the board of First State Innovation, a group designed to "create a strong, vibrant entrepreneurial culture" in Delaware and the region.
Delaware, he said, is close to major markets and has a supportive atmosphere of public-private cooperation. By working with institutions of higher education and as part of the greater Delaware Valley region, "we have a phenomenal opportunity in front of us," he said.
As the economy becomes more global, and the U.S. is in competition with such nations as China and India, it's especially important to recognize the need to make changes now to ensure our economic future, Dianastasis said.
"With all these attributes, we can really start putting the pieces of the puzzle together," he said.
John Taylor, executive director of the Delaware Public Policy Institute, served as panel moderator.
Article by Ann Manser
Photo by Kathy F. Atkinson