Prof's new book focuses on critical role of native plants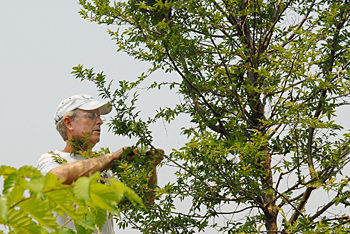 11:32 a.m., Nov. 27, 2007--Delaware's native plants make it possible for the state's 850,000 people to exist, says Douglas Tallamy, chairperson of the Department of Entomology and Wildlife Ecology at UD. Tallamy has been conducting research studies on the interaction between native plant species and native wildlife since 2000. And with every study, he is further convinced that healthy local ecosystems aren't just important for wildlife but for people.
"We invariably take plants and the benefits they provide for granted," says Tallamy. "Who takes time to think that the oxygen in each breath we take has been produced exclusively by plants?"
Plants play the primary role in the food chain. "Most native insects cannot, or will not, eat alien plants," says Tallamy. "When native plants disappear, so, too, do native insects.
"A land without insects sounds like a gardener's dream; doesn't it?" notes Tallamy. "But a land without insects is a land without most higher forms of life."

With the rapid rate of development in Delaware and resulting habitat destruction, the pressures on native plants--and thus native species--has never been greater. Propped up near a window in Tallamy's office, next to a sweeping view of UD's Newark Farm, is a map of all current and proposed development projects in Delaware. At first glance, it appears that the only thing not under development is the farm right outside.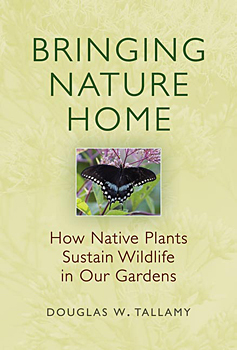 But Tallamy isn't ready to give up on the First State anytime soon. There is a way to sustain biodiversity in Delaware, he says. The heroes won't be the scientists who conduct research, the legislators who enact restrictions on development or the environmental groups who work to reduce habitat loss--as valuable as all these things are.
Look in the mirror--you're looking at the potential hero of this story, says Tallamy. "Every Delawarean has the ability to affect change," he says. "Every one of us has the power to make a significant contribution toward sustaining biodiversity."
Bringing Nature Home: How Native Plants Sustain Wildlife in Our Gardens is the title of Tallamy's new book (released by Timber Press on Nov. 15), and it's also his credo on how we can all make a difference.
If you own a yard--even just a quarter acre--fill it with native plants and watch the wildlife come. If you rent, ask the landlord if you can plant a native tree, shrub or perennial in open space. Or volunteer to do so at a local park or with a community green space project.
Think your small patch of greenery won't make a difference? Think again. Karin Burghardt, AG '07, conducted a one-year study of 12 home sites--six of which were planted exclusively with native plants; the other six with more traditional landscapes.
"The number of breeding birds and diversity of breeding birds, as well as the number and diversity of caterpillars, was large on the native-planted yards, but abysmally low on the other properties," says Tallamy.
Each year, Tallamy gives more than 40 lectures on the link between native plant species and native wildlife, traveling to arboretums and horticultural organizations in Chicago, Virginia, Cleveland, Boston and, closer to home, Middletown and Dover. He brings something of a convert's zeal to his quest. That's because, back when he was an entomology grad student, he spent his weekends filling his relatives' yards with such species as Paulownia and burning bush, both now recognized as alien invasives.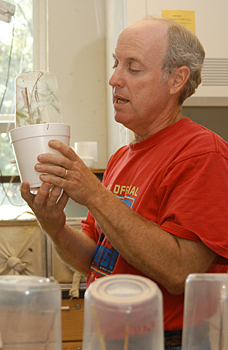 "I took a course in woody landscape plants and found out about all these fascinating exotic plants," says Tallamy. "Meanwhile, in my entomology courses, I was learning about plant-insect interactions.
"All of the information I needed to realize that covering the land with alien plant species might not be such a good idea had been neatly placed in my lap in grad school, but it was 20 years before I made the connection: our native insects, and therefore our wildlife, will not be able to survive on alien plant species."
Yet those of us who try to plant natives exclusively know that the garden path is paved with good intentions. Nurseries specializing in natives are few and far between and the "big box" stores sell plants (mostly non-natives) dirt cheap. And during a dry summer like this past one, we may covet our neighbor's drought-tolerant (and invasive) butterfly bush while we struggle to keep our native Joe-Pye Weed alive for the butterflies.
"You can find a native for every situation--shade, full sun, dry sites, moist sites--you just need to educate yourself," says Tallamy. "Joe-Pye Weed likes moist soil but the native butterfly weed, foe example, does fine in dry conditions."
And natives don't need to be expensive. To prove it, Tallamy whips out a photo of an 8-foot-tall white oak on the edge of his property. Seven years ago, this sturdy oak was an acorn that Tallamy dropped into the soil one warm day. Time spent? Two minutes. Cost? Not a penny.
For information about "Plants for a Livable Delaware," go to [http://ag.udel.edu/extension/horticulture/pdf/PLD.pdf].
Article by Margo McDonough
Photos by Danielle Quigley