Medical advances focus of life science discussion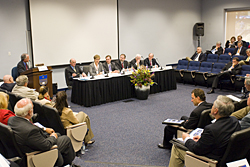 5:24 p.m., Nov. 5, 2007--A panel discussion on life sciences held Nov. 2 as part of the "Creating Knowledge-Based Partnerships: Challenges and Opportunities" conference, put advances in medicine under the spotlight as six regional experts shared their experiences and ideas with each other and the audience.
Moderated by Tom Apple, dean of UD's College of Arts and Sciences, the panel included Barbara Alving, director of the National Institutes of Health National Center for Research Resources; Robert Barchi, president of Thomas Jefferson University; Henry R. Blount, office head, Office of Experimental Program to Stimulate Competitive Research (EPSCOR), National Science Foundation; Robert Laskowski, president and CEO of Christiana Care Health System; John V. O'Brien, global vice president, emerging brands, AstraZeneca; and David Weir, director, Delaware Biotechnology Institute. Each panelist was asked to speak at length before the forum was opened for general discussion, and all six offered different insights on medical challenges, partnerships and advances.
"The life sciences take up an enormous part of our economy in health care and pharmaceuticals," Apple said in his opening remarks. "It's also the largest segment of current investment in research."
Apple began the discussion by asking Weir to cite some recent accomplishments at the Delaware Biotechnology Institute (DBI), and Weir responded with remarks that made it clear that the institute's success has come about through collaboration.
Briefly summarizing DBI's history, starting with its formation in 1998, Weir said that the institute was formed on the premise of partnering and said that without that, success is doomed.
"When you get an initiative like this rolling, it's like a fractal," Weir said. "All sorts of other indirect things happen, and that is the volume of DBI.
"I think that the most important accomplishment yet was the creation of a partnership of many interdisciplinary units functioning as a hub of a statewide infrastructure that brought together research, education and economic development in a way that allowed us to compete in communities where we previously were non-competitive," he said. "The concept was sufficiently powerful that the partners at the University of Delaware and the state, and AstraZeneca and DuPont and Hercules came up with more than $60 million in start-up money to put the concept into motion so that today we have a successful, functioning model of that concept and can move to the next step."
Weir added that successful partnerships depend heavily on dedicated leaders, on convincing supporters that barriers can be converted into challenges, and on nurturing a culture that values partnership.
Alving spoke next, responding to Apple's question on how to translate advances from research laboratories into clinical practices and what the respective roles are for academics, clinicians and industry scientists.
"One aspect of the NIH roadmap was to reengineer clinical research," Alving said, "and a conclusion was reached that we were being extremely inefficient in our translation from basic lab/medical science, of which NIH is one of the primary funders, in taking these discoveries from the lab into the clinical trial and out into the public.
"What we came up with was a very vast and far-reaching initiative, and that is called the clinical-translational science awards," Alving said. "We hope to have awarded about 60 of these to academic health centers throughout the country by 2012 for a total annual cost of $500 million."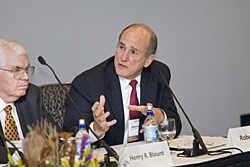 Alving then talked about the purpose of the awards, which is to create in each academic health center a department of clinical and translational science so that degree-granting programs in clinical translational sciences can be established for researchers or clinical doctors who wish to learn more about trials, FDA requirements and new experimental designs.
Alving shared the success of the plan and spoke of the consortium that has formed from it, thereby resulting in yet more collaboration.
Before closing, Alving expressed her concern over the crisis of rising health care costs and spoke of the need for medical doctors to establish widespread use of electronic health records and the need for lawyers to establish avenues whereby intellectual property in groundbreaking medical research could be shared for greater health care advances.
Barchi then answered Apple's question on how to integrate health care professionals into successful health care initiatives. In responding to the question, he talked about his own medical training and summarized the changes health care underwent in the later part of the 20th century.
"Jefferson has been training in the field of medicine for more than 200 years," Barchi said, "but I can tell you that five years down the line, our health care training will be much different from what it is now. We have an entirely different context of health care delivery now than we've had in past decades, and the days of having individual prescriptions delivered by a nurse and filled somewhere else are going fast. It's economically unsound and it's of low quality, considering what we have to do in the current health care environment. We really see health care being delivered by integrated teams, and so do health care professionals. But that requires redefining health care education, because that's not the way we teach people now."
Barchi talked about the challenges of redesigning the health care education paradigm at Jefferson and the challenges involved in training "all the health care professionals on one small campus."
He then discussed the new facility of simulated environments that Jefferson has just opened and shared his enthusiasm over the opportunities the groundbreaking technology is offering medical students.
"We can now take the doctors and the nurses and pharmacists and the occupational therapists and put them into a simulated environment during their education so they learn how to work together as a team before ever entering a real medical environment," Barchi said.
Barchi added that integrating that team with medical research teams was a different challenge altogether and said that that goal involved "finding the mission of clinical care." He said the challenge would involve training the leaders of clinical teams while providing them with the cutting-edge knowledge. "The trick is how to move that information from the individual inventory to the bedside," he said.
In closing, Barchi touched on the importance of engineering-medical partnerships and said that they were critical to health care advances. "A lot of what we do depends on having the appropriate devices, information systems and technology," he said. "Without the engineering, whether it's nanotechnology or information sciences or materials science or systems science, we are at a disadvantage for not being a full-spectrum university like Delaware, with its engineering school. This means we need to reach out to organizations that can help us."
Blount spoke next, outlining EPSCOR's stand on nurturing partnerships, as well as its role in providing tools to scientific researchers.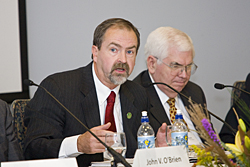 "Partnerships need to be enabled," he said. "They need to be rewarded, they need proper funding, they need shared infrastructure and they need personal contacts and professional interactions."
Blount then spoke on the importance of training and learning at the workforce level and emphasized the critical role students play in creating and sustaining successful partnerships. "Ultimately it's the students who make partnerships successful," he said, "because students vote with their feet."
Laskowski spoke next, making the point that medicine is a team sport. "Collaboration is critical, because no one does health care alone," he said.
He then discussed the translational cancer research in which Christiana Care Health System is currently involved, and he emphasized that "the mission of Christiana Care is to take care of people."
O'Brien spoke about the importance of externalization to partnerships and made the point that approaching partnerships in an open, collaborative way makes all the difference between success and failure.
He also talked about AstraZeneca's "cultural fit" in the tri-state area, where there are other large pharmaceutical and chemical companies, as well as a well-trained workforce pool.
"We should not be shy about recognizing our abilities in this area," he said. "This area has a very large pharmaceutical base, a strong chemical base and a highly educated workforce. The more we can grow that base of industry, the more we can attract good scientists to the area."
The session concluded with panelists fielding questions from members of the audience.
Article by Becca Hutchinson
Photo by Kevin Quinlan, AS '05