UD hosts Laird Fellows 30th reunion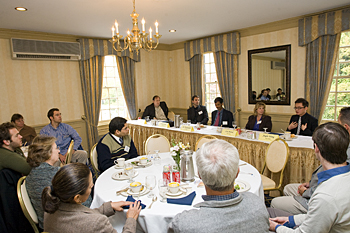 3:49 p.m., Nov. 13, 2007--Past recipients of UD's George W. Laird Merit Fellowship in Engineering gave graduate students attending the award's 30th anniversary reunion luncheon on Nov. 9 advice on how to succeed after graduate school.
"Be flexible and open-minded about your future plans;" "Develop networking skills by making friends with the people around you;" "Learn to communicate effectively;" "Don't be afraid to take risks;" and "Love what you do, and if you don't--leave," the seven Laird award panelists said at the luncheon in the President's Room of the Blue & Gold Club.

The reunion weekend began on Thursday with a reception held by UD President Patrick Harker, and activities continued through Saturday, ending with the UD versus Richmond football game.
At the luncheon, a panel of seven Laird Fellows gave engineering graduate students, faculty and friends career advice and overviews of their career paths after leaving UD.
On the panel were:
Bruce C. Robertson, 1985 Laird Fellow, chemical engineering, a managing director of H.I.G. Ventures, a life sciences venture capital firm;
Chris Herd, 1983 Laird Fellow, mechanical engineering, director of sales for the western region of Symyx Technologies Inc., a designer of research and development software;
Michael Kazz, 1989 Laird Fellow, mechanical engineering, founder and president of Zelen Inc., environmental consulting and contracting;
Ajit S. Thyagarajan, 1993 Laird Fellow, electrical and computer engineering, president and CEO of Brookmoor Inc., systems and networking consultants;
Lisa Marvel, 1994 Laird Fellow, electrical and computer engineering, researcher for the U.S. Army Research Laboratory in Maryland;
Jingbo Wang, 2001 Laird Fellow, mechanical engineering, senior research engineer for ExxonMobil corporate strategic research; and
Mark Osler, 2002 Laird Fellow, civil and environmental engineering, a coastal engineer with Applied Coastal Research and Engineering.
"Be flexible. Life is going to throw you curves, and you have to be able to go with the flow, Herd said. "Expect you're not going to keep the job you started with. Jobs come and go, companies merge and with the global economy things change all the time." His advice was to build solid relationships and keep track of them through life.
Wang came from China seven years ago to study in the U.S. He said receiving the Laird Fellowship gave him confidence. He urged graduate students to learn how to communicate effectively so that they can make relationships that help them in their careers and lives. He said when he first arrived in the U.S. he hardly spoke English. "During the first reception I ever attended, I was asked what brought me to the U.S., I responded--Northwestern Airlines."
Laird Fellowship recipients meet every five years to celebrate the accomplishments of the fellows and the memory of George W. Laird, in whose name the fellowship was founded. The program's objective is to develop in future students the unique combination of human and intellectual qualities that Mr. Laird exemplified.
Mr. Laird received a bachelor's degree with high honors in mechanical engineering in 1968 and a master's in 1971 from UD. Seven years later, he was killed in an automobile accident at the age of 35. Shortly after his death, his family, determined that something positive come from their loss, established a fund to support a major fellowship, based on merit, that would provide a strong source of motivation to graduate students in the College of Engineering.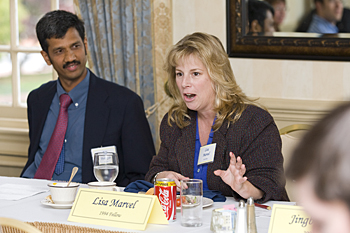 More than 300 donors have contributed to the fellowship fund since its inception in 1978. What began as an annual award of $5,000 has grown to $22,000 today.
The fellowship is awarded to a first-year engineering graduate student to encourage intellectual pursuits that may or may not be of direct application to their chosen field of study. The award may be used in any way its recipient chooses. In the past, recipients have used Laird Fellowships to buy camera equipment, for competitive bicycle racing, to explore their genealogy and to buy musical instruments.
In addition to being engineers, past Laird winners have been artists, writers, pilots and musicians.
Mr. Laird's widow, Ann Wicks, has been attending the anniversary celebrations for the past 30 years. "There is something about the spirit of the fellowship that is truly unique. It really recognizes balanced excellence, and we are trying to reward engineers for looking beyond their discipline and having outside interests," she said.
"This has meant so much to me and my children. Our experience being involved with University has enriched our lives," Wicks said.
Article by Barbara Garrison
Photos by Kevin Quinlan