Panel sees partnerships as key to solving ecological problems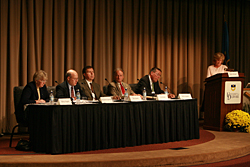 4:55 p.m., Nov. 5, 2007--To successfully deal with Delaware's environmental and agricultural issues, it will take multidisciplinary partnerships, leadership, activism at the grass roots level and a realization that while environmental issues affect they world, they but must be dealt with locally.
That was the consensus of a panel of agricultural and environmental experts sharing their knowledge with attendees at the Nov. 2 "Creating Knowledge Based Partnerships: Challenges and Opportunities" conference.
Robin Morgan, dean of UD's College of Agriculture and Natural Resources, moderated the panel, in which participants discussed how best to work together to create opportunities through agricultural and environmental partnerships. Morgan asked panelists to consider what agricultural and environmental challenges they foresee, what knowledge-based partnerships are needed to address those challenges and how leaders can better engage and inform the public, decision makers and the next generation about issues relating to ecological sustainability.
John Hughes, secretary of Delaware's Department of Natural Resources and Environmental Control, said there have been successful cooperative efforts in the past to resolve issues of agricultural pollutants affecting the environment and as a result, Delaware now has cleaner air and water. He said while there are many difficulties in trying to work with many diverse groups, those kinds of partnerships must continue. He said it is important to begin educating people about environmental realities when they are very young.
Jim Perdue, chairman and CEO of Perdue Farms, said companies like his are always under scrutiny on "how we treat our communities, our workers, our animals and the environment," and still, he said, "we must remain economically viable."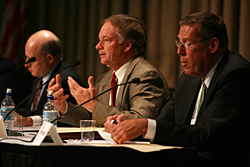 Perdue said, that in late 1990s, when chicken waste was identified as the reason for a massive fish kill in Eastern Shore waterways, representatives of industry, government and academia sat down to find a solution that would not be economically destructive to farmers but would remove these pollutants from the water and soil. Perdue said they created the Nutrient Management Commission, through which the state provides farmers with money to help remove waste before it pollutes, helps resolve manure mismanagement complaints, educates and provides references to farmers of companies that buy manure. "Sitting down as a group and working with the issue is something Delaware is famous for," he said.
Donald L. Sparks, S. Hallock du Pont Chair of Plant and Soil Sciences, chairperson of UD's Department of Plant and Soil Sciences and director of the Center for Critical Zone Research, agreed with Perdue that Delaware has been a model in dealing with animal waste management. But he said the state still faces major problems with land, water and air contaminants that are exacerbated by increasing population. "In addition to ecological pollutants, global warming is having an effect on the state," Sparks said. He urged more meetings such as the partnership conference to provide a forum for discussion toward solving these environmental problems.
Richard Spinrad, assistant administrator with the National Oceanic and Atmospheric Administration (NOAA), offered the services of the administration as a potential partner for working with business, industry and governments to diminish the impact of environmentally damaging natural occurrences. "What if we could provide a very accurate forecast of expected precipitation or expected drought? What if I could give you a 95 percent accurate forecast?," Spinrad asked. "How valuable is a forecast?" He said U.S. citizens pay 6 cents per week to predict the weather. It would take an extra penny to produce a national climate service that would have important implications for agriculture and in mitigating disasters such as the fires in California or the effects of El Ni–o.
"I believe it's about jointly performing and conducting research and development, jointly educating a broad base of the public and jointly advocating for these kinds of developments," Spinard said.
Nancy Targett, dean of UD's College of Marine and Earth Studies, offered three challenges for creating partnerships to those attending the conference.
First, she said, science and society are inextricably linked when it comes to issues related to the environment. "We need to make more progress in terms of energizing the public to environmental issues."
Second, the land, sea and air are all interconnected, so that environmental issues must be put into a global perspective while acting locally, Targett said. For example, El Ni–o happens in the Indo-Pacific, yet it affects world-wide weather patterns. These environmental issues transcend locale, she said, so it important to act locally but to put it into a more global perspective.
Finally, complex environmental issues require a multidisciplinary approach, she said. "We need new kinds of partnerships, new kinds of alliances. We have to educate people to be comfortable talking beyond the boundaries of their individual disciplines and acting in synergistic ways to make the outcome of their collaborations greater than the sum of their individual efforts," Targett said.
That means forming new kinds of partnerships and alliances that necessitates rethinking the way in which we educate our students, she said. These new partnerships can come together to help industry create business opportunities out of responses and adaptations to environmental change, Targett said.
Article by Barbara Garrison
Photo by Kathy F. Atkinson