Delaware could lead nation in clean energy technologies and energy conservation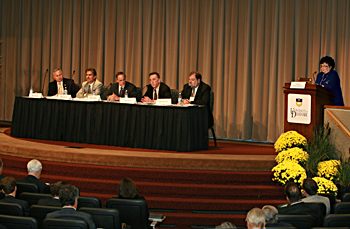 5:28 p.m., Nov. 5, 2007--Facing the nation's energy challenges will require an urgent shift from fossil fuels to a diversity of clean, renewable energy sources, coupled with energy conservation efforts, according to a panel of experts on alternative energy options at the "Creating Knowledge-Based Partnerships" conference at the University of Delaware on Nov. 2.
Delaware has unique opportunities to lead the nation in accelerating the development and adoption of renewable energy technologies and energy conservation initiatives due to the state's size and tradition of political cooperation, strong research in clean energy technologies ranging from solar energy to fuel cells, and access to presently untapped energy sources such as offshore wind and ocean waves, the panelists said.
The panelists included Mark Barteau, director of UD's Institute for Sustainable Energy Research; John Byrne, director of UD's Center for Energy and Environmental Policy; U.S. Sen. Tom Carper; Walt Musial, senior engineer at the National Renewable Energy Laboratory of the U.S. Department of Energy; and Marty Ross, president and founder of Mid-Atlantic Biodiesel. Carolyn Thoroughgood, vice provost for research and graduate studies at UD, moderated the panel.
Daunting challenges threaten the nation's and the world's energy future. By the end of this century, global energy demand is projected to triple. If fossil fuel consumption is held constant at today's level and the 200 percent increase in energy supply is met by renewable resources, the atmospheric concentration of carbon dioxide, a major greenhouse gas, is projected to double within this time frame, Thoroughgood said.
While the U.S. Department of Energy (DOE) stated in the 2003 report Basic Research Needs to Assure a Secure Energy Future that "a new national energy research program is essential and must be initiated with the intensity and commitment of the Manhattan Project," the panelists agreed that no "silver bullet" can meet the challenge. The key will be a combination of alternative energy technologies in addition to conservation efforts.
"We need to be looking at things that can meet on the order of 10 to 30 percent of our needs, including energy efficiency and conservation," Barteau said. "We're going to need some of everything."
New technologies under consideration also need to contribute to a significant reduction in greenhouse gas emissions, Barteau noted.
Even if 100 percent of the nation's corn crop were used for ethanol, Barteau said, it would displace 15 percent of petroleum use but only reduce greenhouse gas emissions by less than 1 percent.
"Is it worth turning Iowa into a moonshinery for 1 percent of CO2 emissions?" Barteau asked.
National and state efforts to promote alternative energy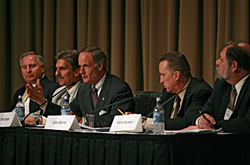 When asked about national efforts to address long-term U.S. energy needs in the next five years, Carper said the federal government can support basic research and development in alternative energy options, use government purchasing power to help commercialize new and promising technologies, such as the development of lithium-ion batteries for plug-in hybrid cars, and then provide tax credits as an incentive for the public to purchase the resulting products.
Carper, who is a member of the Senate committee on the environment and public works, also noted pending Congressional action relating to greenhouse gas and other pollutant emissions by power plants and Corporate Average Fuel Economy (CAFE) standards for motor vehicles.
At the state level, Delaware will be focusing on three major areas to promote alternative energy options in the next five years, including "greener" buildings, sustainable transportation, and de-carbonizing electricity, according to Byrne
Byrne said the building sector is the nation's single largest source of CO2 emissions, and states will be placing a greater emphasis on developing "greener" buildings that incorporate renewables.
Delaware will be experimenting with car sharing, "substituting communication for transportation," Byrne said, noting that New York City recently has cut its transportation energy requirement by half due to innovative approaches.
Byrne also is one of two UD faculty who currently serve on the United Nations' Intergovernmental Panel on Climate Change (IPCC), which was a co-recipient of the 2007 Nobel Prize for Peace with former Vice President Al Gore.
While the U.S. chose not to be a party to the Kyoto Protocol, which calls for limiting greenhouse gas emissions to 3.3 tons of CO2 per person per year by 2012, Byrne said he believes the U.S. could easily have met the target.
The United States, which is approaching emissions of 21 tons of CO2 per-capita per year, according to Byrne, could achieve a 50 percent reduction through energy conservation alone, with "the judicious use of renewables" providing further significant reductions.
Delaware already is a leader in the pursuit of renewable energy sources, Byrne said, with 20 percent of its electricity required to come from renewable sources by 2019, including 2 percent from solar energy.
"This is higher than anywhere else in the United States," Byrne noted.
The state's sustainable energy utility program, which UD's Center for Energy and Environmental Policy is helping to develop, is being used as a model by Washington, D.C.; Montgomery County, Md.; and by Pennsylvania and several other states. The program provides residents with specific guidelines for reducing their energy use.
Energy from agricultural and marine resources
Thoroughgood asked Ross about the impact of alternative energy options on agriculture, in terms of food production costs and productivity.
"This new industry is not emerging by accident," Ross noted. "Agriculture has experienced stagnant commodities for three decades," he said. "Farm industries are being leveraged to bio-based efforts."
Ross noted that bio-based products are appearing in areas ranging from clothing and carpet backing foam to ethanol fuel.
"Currently, 13 percent of U.S. food is imported," Ross said. "Would we rather use our land to produce food or fuel?"
Fuel-based efforts are driving the production of high-yielding crops, such as 100 bushels of soybeans per acre, Ross said.
Ross stressed the need for more expansive agricultural land preservation efforts to avoid urban sprawl and the fragmentation of agriculture.
Musial said that a diverse energy portfolio is critical for the nation's future energy security, and DOE has a range of alternative energy options in development, including ethanol, hydrogen and water power from both conventional hydroelectric sources as well as ocean wave energy.
Wind energy will provide 20 percent of the U.S. electricity supply by 2030 due to efforts under way in 34 states, Musial said, but Delaware currently is not one of them because of the state's limited wind resources over land.
However, Delaware does have access to offshore wind and ocean wave energy, Musial said, noting that 78 percent of the nation's electricity is used along the coast. Currently, Delaware is considering a proposal for the nation's first offshore wind farm in the Atlantic Ocean off Rehoboth Beach.
Creating knowledge-based partnerships
Of the National Renewable Energy Laboratory's $237 million budget, 40 percent goes to universities, Musial said. In identifying areas ripe for future partnership, he said that DOE is experiencing a critical shortage of students in the environmental and policy fields. He noted that summer internships and faculty and student exchanges "greatly facilitate" future collaborations.
Byrne said that UD, which has a major strategic planning process under way, should consider changing its organizational structure to better accommodate interdisciplinary studies. He also called for a low-carbon future initiative that would identify four or five low-carbon strategies.
Barteau highlighted the storing of energy as a major research target "through batteries, but also chemical ways," noting that UD has strength in heterogeneous catalysis on par with Berkeley and MIT.
"UD is a testbed for new technologies," Barteau said.
"How we educate this generation of students and the next generation of students is critical, as well as how we demonstrate best practices and do public outreach," Barteau noted.
At the conclusion of the panel, Carper cited areas that have been critical to Delaware's economic development, from corn, chickens, cars, chemicals, corporations and credit cards, to biotechnology and tourism.
"It's like Edison said, 'Opportunity knocks with overalls on,' which means we have some work to do," Carper said.
"Clean energy could well be the next big thing, not just for Delaware, but for our country," Carper noted.
Article by Tracey Bryant
Photo by Kathy F. Atkinson