Corporate governance panel seeks way to keep state No. 1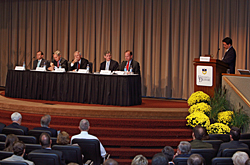 3:23 p.m., Nov. 5, 2007--Delaware has enjoyed a long history of being the model for corporate governance, and the state's leaders in business, law and education want to maintain and enhance what they call the "Delaware Advantage."
As part of the "Creating Knowledge-Based Partnerships: Challenges and Opportunities" conference held Nov. 2, in Clayton Hall, a panel comprised of top judicial, government and financial business leaders discussed the way to help Delaware maintain its competitive edge in these areas.
The Corporate Governance and the Delaware Advantage Panel, moderated by Conrado "Bobby" M. Gempesaw, dean of the UD Lerner College of Business and Economics, included William B. Chandler III, chancellor, Delaware Court of Chancery; John Cochran, marketing executive, Bank of America Card Services; Charles Elson, Edgar S. Woolard Jr. Chair in Corporate Governance and director of the John L. Weinberg Center for Corporate Governance; Jack Markell, state treasurer; and L. Edward Shaw, senior managing director, Breeden & Co.
"The focus of this panel session is to discuss Delaware's advantage in these areas and perhaps offer ideas that may be necessary for Delaware to remain competitive in business and corporate governance," Gempesaw said.
With 61 percent of Fortune 500 companies incorporated in Delaware, including half of all firms traded in the New York Stock Exchange and NASDAQ, the First State has been a favored corporate home because Delaware offers the most advanced and flexible business corporation law in the country.
The Delaware Court of Chancery, with a 215-year tradition, has been the source of most corporate case laws in the nation. Delaware also has been responsive to the needs of the financial services industry, passing legislation that includes the Financial Center Development Act (1981) and the Bank Insurance Powers Act (1995).
"The very title of this panel really does reflect a remarkable point of differentiation that is available to Delaware," Markell said. "The question is, 'How do we protect it and how do we enhance this advantage?'"
Markell noted that while Delaware earns a significant portion of its income from franchise taxes, bank franchise taxes and unclaimed property taxes, such incomes are vulnerable, and that the state has to continue to work on ways to maintain and enhance the Delaware advantage in these areas.
"We do have all the pieces in place. We have a small state which is nimble and is high quality," Markell said. "Let's keep working together."
Among the reasons for Delaware's preeminence as a leader in the worlds of business and finance has been its ability to enact innovative legislation such as the Financial Center Development Act.
"In 1981, the state passed the financial development act which made it possible to lend money without the unreasonable restrictions that other states had imposed on their banks," Cochran said. "This is why MBNA and other banks moved their national headquarters and their credit card divisions to Delaware."
Another key factor to the state's success in the business and financial worlds has been a legal system that has done a good job in several important areas, Shaw said.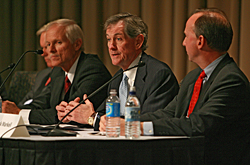 "From my perspective, the long-time accountability of the Delaware court system, especially the chancery court, has successfully reconciled the tensions between the business need for flexibility and decision making with the need to apply the rules in a fair and just way that can be reasonably anticipated," Shaw said. "This is a fundamental attraction and a magnet for companies to incorporate here."
The value of Delaware's Court of Chancery is its ability to provide service to business men and women on a daily basis, day-in, day-out, Chandler said. It also is a court that must decide over an ever-increasing number of litigations in a prompt and fair manner, Chandler said.
"The change in the court in the past two decades is a remarkable one," Chandler said. "The increasing number of cases that have to be resolved in a very prompt manner is exponentially different that it was 10 or even five years ago."
With the growth of the chancery court's responsibilities, including mediation cases, the question arises as to whether its success can be grown or leveraged, Chandler said.
"Perhaps, but I would only ask and encourage you to be thoughtful about it," Chandler said. "We have to be sure that it fits in our niche, that it fits our brand and that it is consistent with our duties of being prompt in a sophisticated way. If we do it that way, we can grow this business even more. I am confident of that."
There are two challenges on the horizon that present, in varying degrees of concern, challenges to Delaware's ability to maintain and enhance its number one position in the area of corporate governance, Elson said.
The first challenge, Elson said, is the passing of a new "shareholder-friendly" statute in North Dakota by a couple of major players in the New York financial scene who believed that Delaware did not go far enough in protecting shareholder rights.
"The idea was that they would set up a real corporation-friendly statute with every bell or whistle known to mankind," Elson said. "The corporate statute they designed is quite a good one for shareholders in many respects, but it does not have the things that make our law in Delaware unique. Corporate law is really made by the judges in the court. You can lay something out in a statute, but it is the legal interpretation of that law which really drives corporate law."
Elson said that he believes the point of the North Dakota law was not to get people to move there, but to "force us in Delaware to sort of rethink some dogma, if you will, in our own corporate law and to attempt to liberalize our shareholder versus management prerogative in some of the things we are doing here."
The greatest threat facing the Delaware advantage, Elson said, is the movement by some members of Congress to federalize corporate law.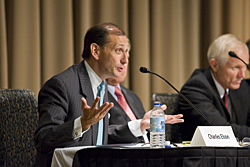 "In other words, this means taking incorporations, which are typically done in the state, and moving them to a federal level of corporation law," Elson said. "A company would no longer be a Delaware corporation, but a United States corporation."
Generated in response to a number of high profile corporate scandals, the Sarbanes-Oxley Act (Public Company Accounting Reform and Investor Protection Act of 2002), represented a real intrusion by the federal government into state regulation of corporate law, Elson said.
"The problem was not what Sarbanes-Oxley did," Elson said. "But, it was for the first time philosophically contemplating the notion of Congress saying it is all right for the federal government to regulate the internal affairs of a corporation."
For a variety of reasons, the federalization of corporate law would not necessarily be a better deal for shareholders, Elson said.
"Federal or state corporate law is made by judges, and in Delaware we have basically 10 people doing this-five on the Court of Chancery and five on the Supreme Court of Delaware. They are very skilled and they work together on creating a progressive and intelligent corporation law. And, the Delaware courts are highly respected for their neutrality," Elson said. "The problem with the federal system is that you have thousands of judges, so instead of having 10 people make law consistently, you have a thousand who do not really know each other. In my view, there would be no consistency in the regulation of corporate law."
Delaware has about a year to act in response to the possible federalization of corporate law, Elson said.
"There are certain changes I think we could make that will satisfy some of the concerns that are out there-moderate changes that, I think will position us well in the event that a federal act comes out," Elson said. "I think, frankly, that our economy, not only as a state, but as a country, depends on creating effective regulation for the long term."
Article by Jerry Rhodes
Photo by Kathy F. Atkinson