UD's Engineers Without Borders are working to bring safe water to an African village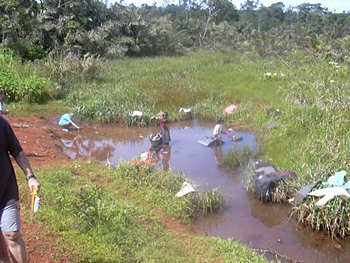 2:26 p.m., Nov. 2, 2007--
The University of Delaware's chapter of Engineers Without Borders (EWB) is a fledgling new student organization on campusat UD, but one that is already improving the quality of lifemaking a difference for the people of a small village in Africa.
Last summer, four engineering undergraduates, along with faculty adviser Steven K. Dentel, professor of civil and environmental engineering, and four students engineering undergraduates traveled to the village of Bakang, in the western province of Cameroon, where they foundto assist a community relying on turbid creeks and unsafe open wells that have significant levels of bacteria. There is no electricity in the village and the women and children carry the water as a burdensome, daily routine, Dentel said. The UD group assessed the community's needs for safe drinking water, made some immediate improvements, and will return to Bakang during Winter Session to implement the plan they have been developing for a long-term solution.
According to Dentel, a professor of civil and environmental engineering, "this exemplifies the global challenges that UD engineers can deal with, and, with their problem-solving skills, develop solutions that are culturally and environmentally sustainable." It's a great way of getting back to why we need to do all the technical things engineers do. Bringing sustainable projects to areas in need reminds us why engineering is important. It connects the technical with the everyday on a very basic level," Dental Dentel said.
The village of Bakang is remote, at a mile's elevation and just off the equator. Passports, visas, immunizations, scheduling and equipment transport were carefully arranged. Even with these advance preparations, the poles for surveying and groundwater exploration had to be repackaged at the airport, requiring much of the engineers' reserve supply of duct tape. Plans were also revised oThe logistics of traveling to a remote part of a foreign country where you do not speak the language can be daunting in the first place, but this group also had the unique task of finding and then transporting bulky surveying equipment needed to survey the land and groundwater. Dentel and his intrepid team of Sarah O'Neill, a mechanical engineering junior from northern Virginia; Samantha Sagett, a junior environmental engineering major from south Jersey; Barney Fortunato, a civil engineering junior from Long Island and Julie Trick, a senior civil engineering major from Ohio, who served serves as project manager, were undeterred by the transportation obstacles, solving several shipping problems with that old engineering staple-duct tape.
"We had a lot of heavy equipment--three boxes all over 100 pounds, a DC receptor resistivity meter that included a five and a half foot pole," Fortunato, said. "Once we got to the (Newark, N.J.) airport we really had to improvise. Members of Engineers Without Borders came to see us off and brought five rolls of duct tape and we used a lot of it before we left."
Even after Once the group arrived in at the airport innce arriving in Douala, Cameroon, where the vehicle for theit was a five-hour trip to Bakang, located at a mile elevation not far from the equator. could not fit all of the equipment. Much ofit sent some of the equipment was sentArrangeŽments were made to send it to the worksite by bus, and the team needed to repair some of it therethe electrical equipment once it arrived. with limited resources from Douala.
"This group was great at advance planning, but also immediate problem solving," Dentel said. "Without an electrical engineer, we still managed to analyze and repair our resistivity equipment." His intrepid team included Sarah O'Neill, a mechanical engineering junior from Sterling, Va.; Samantha Sagett, a junior environmental engineering major from Bear, Del.; Bernard Fortunato, a civil engineering senior from Stony Brook, N.Y.; and Julie Trick, a senior civil engineering major from Dayton, Ohio. The team also was assisted by Tony Rana, a professional hydrogeologist.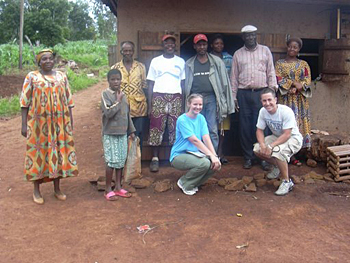 Students took the initiative in starting an EWB chapter at UD, Dental Dentel said. Students had been asking clamoring for a chapter, he said, for a year and a half when he decided to step upvolunteer as faculty adviser. "Beyond the group that went to Bakang, we had a strong support group of students tracking our progress," he said.
O'Neill, one of the students most interested, said the first step was to look at other chapters to see how they got started and how they found projects. When the UD group queried the chapter at Johns Hopkins, they found that that group had projects to spare. With the help of Olivia NeucomeMukam, a student from Cameroon at Johns Hopkins, who is the daughter of the mayor of Bamendjou in Cameroon, the UD group found out about the safe- potable water needs of Bakang.
After research and several conference calls to find out more about the area and its needs, and filling out a 14-page application, the UD group got approval from EWB national headquarters.
"This first trip was site assessment," Sagett explained. "We mapped the region using GPS equipment and doing survey work. We tried to find where the water table was and worked withhelped create a local water committee to make the project sustainable. The water committee will handle the politics of water in the community and will make sure that the system is maintained. We also interviewed the local people to find out their needs.," she said, explaining that they used interpreters who could translate English into French and then into the tribal language.
"The people were very supportive," Fortunato said. "Sometimes they would even cheer for us--it was like we were their soccer stars or something."
Dentel added that the UD group worked hard to make sure half of the members of the water committee were women. "After all, the women and children are the ones who spend one to two hours three several times a day going to get water and carrying it back to the village," he said.
The area the group is helping consists of small clusters ofdispersed houses, family compounds and with modest plots used for substance subsistence farming. There are no cars and very few mopeds. The mayor suggested the UD group look into building a well in one central location with a storage tower and a solar-powered pumping station that could send water closer to the compounds. The first step was to survey the area, decide where to put the well, and verify the need.
"When we surveyed the area and tested the water we found bacteria and impurities in all the streams and hand-dug wells, " Fortunato Sagett said.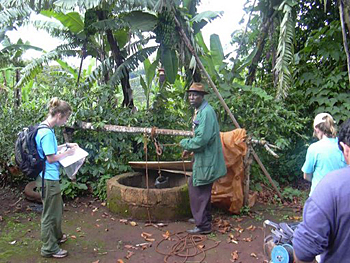 A pleasant surprise, Dental Dentel added, was the discovery of a drilled well in the area that was just not working. "By getting that well repaired, We we were able to unexpectantly fix that well," he said. "It wasprovided an immediate and unexpected improvement-- but it is only the beginning. Now we know what we need for the overall community, and are planningwe can plan how to do it. Our biggest task now will be raising funds to support our next visit."
The group is also planning a project for the next batch of new EWB members--a project Fortunato will manage in South Africathat could be located elsewhere in Africa, in Latin America or closer to home, as Trick becomes project manager for the project ongoing tasks in Cameroon.
"Getting safe drinking water to people everywhere is a huge problem," Fortunato O'Neill said. "There are over 1 billion people who do not have access to it--that's one out of six people."
Sagett concluded, "I feel incredibly fortunate to be a part of this. UD has a great engineering program, and Engineers Without Borders lets us use our skills to make a real difference."
UD's chapter of Engineers Without Borders is seeking more members and students do not have to be engineering majors to join. For more information, contact O'Neill at [ewb.udel@gmail.com] or visit: [http://copland.udel.edu/stu-org/ewb/index.html], which includes a blog posted while the team was in Cameroon.
General meetings are held at 7 p.m., Thursdays, in 223 Gore Hall.