Harker encourages UD-business partnerships in Delaware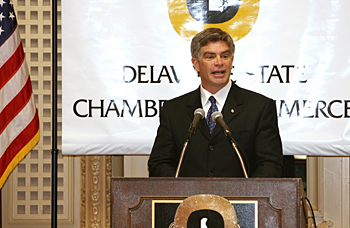 4:01 p.m., Nov. 6, 2007--University of Delaware President Patrick Harker told a large gathering of small business entrepreneurs that UD will be working to make the changes needed to enhance its partnership with industry, government and the community.
Harker made his remarks to an audience of more than 300 business, community and government leaders at the ninth annual Marvin S. Gilman Superstars in Business Awards luncheon, held Monday, Nov. 5, at the Hotel du Pont in Wilmington.
The Marvin S. Gilman Superstars in Business Awards, named for one of Delaware's leading small business entrepreneurs, honors businesses and nonprofit corporations for their outstanding achievements and model approaches to business and management.
"I see the need to reshape the UD community so that we are more open to entrepreneurship," Harker said. "We must support individual excellence and foster an atmosphere on campus that encourages entrepreneurship, and we must make it possible for our faculty and students to work together in groups that are not defined by their disciplines, and that are centered around scholarship that affects the critical needs of our state and nation."
Harker said that UD is on the "cusp of true national prominence. Some of our programs are already there. They are the best around, and others are nearly there."
Describing UD as a place where things can get done, he said the current challenge is to think about what the University can do and what it wants to become as an institution.
"I believe that both the University and the state are well-suited to take advantage of the changing global economy," Harker said. "The University has long been an important force in the state's economic development, and I would like to see that role expanded even more."
An example of UD's efforts to increase its role in partnership with local, state and national economic entities was the "Creating Knowledge-Based Partnerships: Challenges and Opportunities" conference held Nov. 2, at Clayton Hall, Harker said.
"The task force [charged by UD Provost Dan Rich] recognized that the key to success in building knowledge-based partnerships is bringing all the stakeholders together for an open and sustained dialog on what is needed and how we can be mutually supportive," Harker said. "Friday was a great success in that regard, and it was just the beginning, as we are planning more such opportunities for dialog in the future. That is why I have emphasized the term 'sustained.'"
The establishment of a central UD Office of Economic Innovation and Partnership to coordinate UD's activities in this areas while serving as a point of contact for those seeking access to its expertise, programs and services is part of this sustained effort to promote entrepreneurship, Harker said.
"The University is a large, complicated place, and helping people find their way around is a part of what this office is about," Harker said. "Our goal is to promote expanded business and government partnerships and to better support technology transfer and the commercialization of new discoveries. We want to encourage entrepreneurship."
In adapting to this new role, Harker said UD must not only generate knowledge, but must get this knowledge into the hands of business leaders who can make things happen.
"Entrepreneurship is a topic that is very close to my heart," Harker said. "By nature I am a very entrepreneurial person. I want to make a difference, to have an impact, and that is the spirit at UD that we need to create new business opportunities."
An excellent model of this new entrepreneurial partnership between UD and the founders of start-up companies is the Delaware Biotechnology Institute, Harker said.
"The Delaware Biotechnology Institute is a partnership involving government, industry and higher education," Harker said. "It is estimated that more than 12,000 new primary and secondary jobs have been created in the life sciences since its establishment."
Harker also cited the recent creation of OrphageniX, a new biotechnology company founded by UD researchers to develop and commercialize UD-patented technologies for repairing genes that cause rare, hereditary diseases, such as sickle cell anemia and spinal muscular atrophy.
"That kind of entrepreneurial enterprise is based on research conducted at UD, and it is the model we need," Harker said. "Sometimes, people may say that this is not how the state works, but I think it is good to remember that DuPont was once a small, start-up company, as was W.L. Gore & Associates."
Ensuring that the proper processes and procedures are in place to encourage such potential economic expansion must be among UD's top priorities as a research institution, Harker said.
"The University's strengths in such research areas as alternative energy, the life sciences and advanced materials, among others, makes us a marvelous resource for future development," Harker said. "I see great promise for new knowledge-based partnerships, and these are partnerships that will matter a great deal where it counts--on the ground, in the real world."
Harker said that it is important to position UD to be an even greater asset to the state and the nation and to create an environment that will encourage UD students to remain in Delaware after graduation.
By encouraging UD alumni to stay in the First State and become involved in such research-based entrepreneurial activities including individual and group start-up companies, Delaware can develop as a new Silicon Valley or Research Triangle, Harker said.
"It is always important to aim high, and that is what we intend to do," Harker said. "They may be lofty goals, but they are not unattainable."
Article by Jerry Rhodes
Photo by Kathy F. Atkinson