Bulgarian vets visit UD to learn 'Delaware Model' for containing bird flu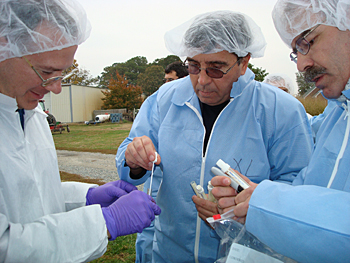 3:52 p.m., Nov. 21, 2007--Veterinarians visiting Delaware from Bulgaria will return to their country with new techniques for diagnosing and managing potential outbreaks of avian influenza, thanks to a unique training program presented by the University of Delaware.
The Emergency Poultry Disease Response Certificate Training Program, developed by UD's Avian Biosciences Center, the Division of Professional and Continuing Studies and the Center for International Studies, is funded by a $50,500 grant from the U.S. Department of Agriculture's Foreign Agricultural Service's Borlaug Fellowship Program.
The program evolved from a successful training and technical assistance effort led by UD and Delaware Technical and Community College last year to instruct science and policy leaders from Romania in the latest poultry diagnostic and emergency management techniques.
Although Bulgaria has had only a few cases of avian flu since 2006, the country is on high alert for future outbreaks. Its neighbors Romania and Turkey both have experienced serious bouts of the pathogenic H5NI strain of avian flu.
"Avian influenza continues to threaten poultry production in many areas of the world, including Europe, as evidenced by last week's outbreak in commercial poultry in the United Kingdom," said Jack Gelb, director of the Avian Biosciences Center and chairperson of UD's Department of Animal and Food Sciences. "The H5N1 strain responsible for the UK outbreak has been found to be similar to the virus found on a turkey farm in Germany last summer."
During the past week, nine USDA Bulgarian Borlaug Fellows, who manage national or regional veterinary services, labs, commercial poultry operations or community development foundations, received instruction in the "Delaware Model," which emphasizes close cooperation among government, industry and academia to manage avian disease outbreaks.
"Successful outcomes of avian influenza introductions into poultry from wild birds or other sources require coordination among government, industry and universities in the fields of agriculture, human health and wildlife natural resources," Gelb said.
A team of UD instructors, state and regional veterinarians, industry and government officials, including Delaware Secretary of Agriculture Michael Scuse, presented elements of successful planning and response to a poultry disease outbreak. These included state and local policies, incident command management structures, required laboratory equipment, media relations and multi-jurisdictional cooperation.
The visit also included tours of UD's state-of-the-art Charles C. Allen Jr. Biotechnology Laboratory in Newark and Lasher Laboratory in Georgetown, the Perdue Farms Inc. AgriRecycle poultry-litter palletizing plant in Seaford and the Intervet Inc. vaccine production facility in Millsboro.
UD personnel will travel to Bulgaria in the spring to provide follow-on technical assistance, Gelb said.
"It's a two-way street," Gelb noted. "We share what we know with them, and the Bulgarian Borlaug Fellows share their experience managing poultry disease outbreaks with us so that we can learn, too."
Article by Tracey Bryant