Advanced materials fertile ground for knowledge-based partnerships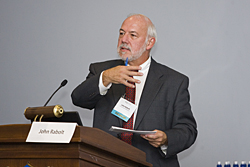 4:56 p.m., Nov. 5, 2007--The creation and commercialization of advanced materials has long been a key strength of the U.S. economy and is critical to maintaining America's and Delaware's competitiveness in the 21st century, leaders of three major corporations agreed during a Nov. 2 panel discussion at the University of Delaware.
"There are tremendous opportunities for advanced materials, but it's about value, not volume," said Tom Connelly, executive vice president and chief innovation officer for DuPont Materials. "The world doesn't need more stuff, it needs smarter materials. It needs higher-performing materials. It needs materials derived from fewer inputs--less energy, less petroleum, less labor, less capital, less everything."
Paul Fischer, core technology division leader at W.L. Gore & Associates, emphasized the key role that highly sophisticated technology plays in developing innovative products at Gore. "With the characterization technology that exists today, it's become pretty easy to look down at the molecular level and modify it to create high-value, unique materials for the marketplace."
Sam Shoemaker, president and CEO of CMP Technologies and vice president of Rohm & Haas Co., said, "Collaboration with university researchers is important for our whole nation's economy. Our business really depends on innovation, and the majority of our innovations have come early on from collaborations with universities."
These comments came during a conference on "Creating Knowledge-Based Partnerships: Challenges and Opportunities" held at UD.
John Rabolt, chairperson of UD's Department of Materials Science and Engineering, moderated the panel discussion on advanced materials. In his opening remarks, Rabolt noted that he had just returned from a 10-day trip to Hong Kong and Taiwan and was impressed with "the enormous amount of investment that their governments are making in the area of advanced materials. I think the contribution of advanced materials to their evolving economies goes without saying," he added.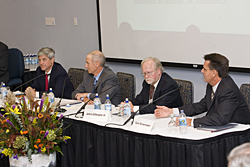 John Gillespie Jr., director of UD's Center for Composite Materials (CCM), addressed the issue of how to accelerate the development of new materials into commercial products.
"Historically, new materials can take decades of development before they become commercial products," he said. "We've learned that industry participation is essential to achieve rapid commercialization of new materials. And we've found that the needs of industry become our research opportunities."
More than 60 small, medium and large companies currently are working with CCM faculty and staff on materials research, Gillespie noted. "We have numerous Centers of Excellence at CCM, funded by large federal block grants, [that help] offset the R&D costs to our partners. That has created a tremendous research capability at the University," Gillespie said.
"What we haven't been terribly successful at is promoting an entrepreneurship environment and the creation of new businesses and new jobs for this region," he said. "That's what I think is next for us. We have a tremendous foundation already built from which to take that next step."
While working to speed the transfer of technology from the laboratory to the marketplace, however, Gillespie noted that basic research is still a primary responsibility for both CCM and the University.
"We want to continue to invest in long-term basic research, but at the same time to create an environment that can lead to breakthroughs in terms of new businesses," he said.
Article by Larry Elveru